Pro-active solutions
Dedicated and service focused
Contingency fee applies
In-page navigation
---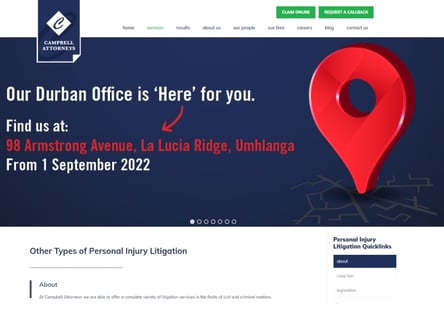 Author Campbell Attorneys. Screenshot of Campbell Attorneys website.


[Accessed March 31, 2023]
Campbell Attorneys - Pro-active solutions for your legal problems
The dynamic and service-focused legal practice of Campbell Attorneys has earned an excellent reputation over the years.
Our passionate team is known for providing clients with effective solutions to a wide range of legal problems.
If you would like to visit us you can so at our Durban or Pretoria offices, alternatively, you can visit our website, we assist clients throughout South Africa. We specialise in different fields of law including personal injury law, medical malpractice claims, family law, labour law and commercial and corporate law.
Our team is dedicated
We have a dedicated team of law practitioners. We work with medical experts and other specialists to prepare the claims of our clients in the best possible way. We have many years of experience in claim initiation and litigation.
We handle income support claims on a contingency fee basis popularly known as "no win, no fee" basis. It is our responsibility to finance the preparatory, negotiation and litigation processes.
We get positive results
At Campbell Attorneys, we have an excellent track record in the field of personal injury law. We handle a wide variety of cases, including road accident, medical negligence and slip and fall ones.
The victims of accidents which result from the negligence or other wrongful act of a person or entity have the right to claim compensation.
The amount you will receive in terms of compensation will cover future and past loss of earnings. Income support claims are highly specific and usually complex, we have the resources and facilities to help you get a positive outcome.
We will build a solid case
Our main focus will be the preparation of the claim in order to get our clients successful results. We have a large selection of experts to help you with your personal injury claim, including medical specialists. We strive to build solid cases for our clients with strong evidence and expert testimony.
With many years of experience, we have become experts in negotiation and litigation. We work hard in order to make the process as short and stress free as possible.
Campbell Attorneys – Income Support Claim
Claim Type

Income Support Claims
Benefits of Campbell Attorneys
ROAD Accident Fund Claims
MEDICAL Malpractice Claims
CLAIMS Against the Police
TRAIN Accident Claims
OTHER Injury Claims
---
Campbell Attorneys - A group of highly skilled attorneys on your side
Campbell Attorneys is made up of a group of highly skilled attorneys that are ready to assist you when you need someone in your corner. We specialise in helping our clients file claims with the road accident fund, medical malpractice claims, injury claims and accident claims.
Help is just a click away
If you need legal assistance with any form of income support claim help is only a click away. Log onto our website and complete the application form online. Select your contact method and one of our skilled professionals will contact you.
We know that anything to do with the law can be scary and the forms and questions may seem very intimidating, that is why our attorneys will hold your hand every step of the way and keep you informed about your claim and explain the process to you.
Helping you understand
We want you to understand your claim, so we offer our services in 3 different official languages including English, Zulu and Afrikaans. Our team is friendly and dynamic and offers each client's special individual attention. We use our problem-solving skills and years of experience in the field to make the claim process as easy and stress-free as possible.
The advantage of specialising in certain areas of law means that our team has a far greater level of expertise that most firms that try to offer too many services. We specialise in key focus areas to ensure that our clients receive the best service possible and can keep up to date with the latest developments in each sector.
Campbell Attorneys is a proudly South African company with offices in Durban and Pretoria although we are able to assist any client that lives within South Africa.
Cancellation of debt review
One of our main services is to help clients that are under debt review or struggling with credit issues. Our assistance includes cancellation of administrative orders and cancellation of emolument attachment orders. Our debt relief assistance includes sequestration, debt mediation and general credit report restoration.
Other services we specialise in include assistance with consumer matters such as returning defective goods, making product liability claims or services rendered that relate to the consumer agreement act. Our legal practice focused on putting our client first and protecting their interest, we aim to uphold and enforce consumer rights and protect them from unfair practices.
Excellent representation with your loss of support claims or personal injury claims doesn't need to cost you an arm and a leg, give us a call today or contact us online to find out your rights and put them into effect.
Campbell Attorneys Contact
Contact Number
E-Mail
Website
Physical Address
58 St. Andrews Drive

Durban North

4051

South Africa
---
Postal Address
PO Box 30162, Sunnyside, Pretoria, 0132, South Africa
Opening Hours
Monday

08:00 – 16:30

Tuesday

08:00 – 16:30

Wednesday

08:00 – 16:30

Thursday

08:00 – 16:30

Friday

08:00 – 16:30

Saturday

– CLOSED

Sunday

– CLOSED