Vast legal knowledge
Professional assistance
Honest and transparent
In-page navigation
---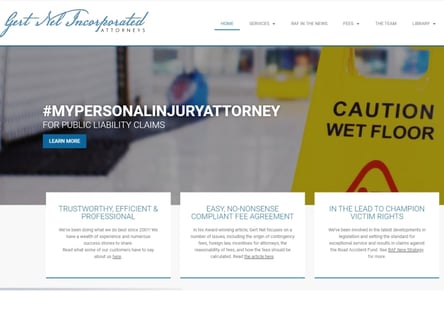 Author Gert Nel Attorneys. Screenshot of Gert Nel Attorneys website.


[Accessed March 31, 2023]
Gert Nel Attorneys - We specialize in personal injury law
Gert Nel Attorneys has a long track record of success, and through hard work, personal attention and a dedicated legal service they have become one of the most reputable law firms in South Africa.
Gert Nel Attorneys specialise in personal injury law and they handle claims such as medical negligence claims, public liability claims as well as road accident claims. Our legal team has two attorneys and three candidate attorneys. They are able to give you professional assistance and specialist support.
Our main goal is top results
We work hard for our clients and we build strong cases to deliver positive results regardless of the complexity and size of the income support claim and case.
Gert Nel Attorneys has many years of experience, excellent negotiation skills and vast legal knowledge.
We aim to achieve high capital settlements on your behalf. Our service is cost-efficient and we work towards getting your claim settled in the shortest possible time.
We are always honest with our clients
In many cases, our clients know that they are entitled to income support compensation when they have sustained an injury due to negligence from another party, but they are not aware of how complex claims can be for the loss of earnings and medical expenses.
At Gert Nel Attorneys we are transparent with our clients.
We will be completely honest with you about your rights and compensation amounts.
Together with our medical experts, we are able to build a strong case for you in order for you to receive the largest possible personal injury compensation.
Income support claims
The compensation amount is determined by the income which you lost as a result of the injured person's inability to work.
We use our skills and expertise to achieve a fair capital settlement for every client given the threshold and other limitations which are set in the country's legislation.
Gert Nel Attorneys – Income Support Claim
Claim Type

Income Support Claims
Benefits of Gert Nel Attorneys
HEAD Injury Claims
BRAIN Injury Claims
MEDICAL Negligence
ROAD Accident Fund Claims
INCOME Support Claims
DOG Bite Claims
---
Gert Nel Attorneys - Expert legal help on your side
Personal injury that is not your fault shouldn't affect your income.
Gert Nel Attorneys specialize in personal injury claims that lead to loss of income. You have already been through a traumatic event that will affect your life.
We are there to assist you with coping with the confusing paperwork and help you file the claim as quickly and as easily as possible.
After your injury, it is important that you concentrate on getting well and recovering, we will handle your income loss claim on your behalf and make sure that you are covered for loss of income while you are recovering. Personal injury claims include medical malpractice suits, motor vehicle accidents and slip and fall cases.
How will lodging a personal claim be in my best interest?
If you have been injured and it wasn't your fault, then you should be owed some sort of remuneration so that you can remain in a secure financial position while you are recovering from your injury.
In the result that the accident ends in death then the dependants of the deceased will be eligible to claim. You will need money to live while you are recovering and if you lose your income your family could end up suffering even more.
Helping you manage your win
When you win a personal injury claim you may be awarded a lump sum of money, this in some cases will be your last paycheck, so it is very important that you know how to manage your money and are able to invest it, so you can make it last. Our attorneys are experts in their fiend and have the practical knowledge to help you better manage your money.
If you have to manage the claim yourself this could take a long time and the process can be confusing and drawn out. Most victims don't know the law and are taken advantage of by an unjust system, that is why you need us in your corner.
We will assist you by determining the true value of your income support claim and assisting you in getting your compensation that you are due.
Gert Nel Attorneys Contact
Contact Number
E-Mail
Website
Physical Address
1235 Cobham Road

Queenswood

Pretoria

0186

South Africa
---
Postal Address
PO Box 11614, Queenswood, 0121, South Africa
Opening Hours
Monday

08:00 – 16:30

Tuesday

08:00 – 16:30

Wednesday

08:00 – 16:30

Thursday

08:00 – 16:30

Friday

08:00 – 16:30

Saturday

– CLOSED

Sunday

– CLOSED