40+ Years' experience
Specialist injury law
'No win, no fee'
In-page navigation
---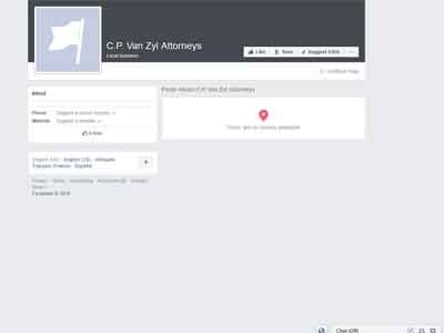 Author CP van Zyl Attorneys. Screenshot of CP van Zyl Attorneys website.


[Accessed April 5, 2023]
CP van Zyl Attorneys - A specialist injury law firm
As a specialist injury law firm, CP van Zyl Attorneys can provide the legal representation in South Africa which accident victims require irrespective of their social or financial background.
A dedicated legal team
Our legal team has the combined the experience of more than 40 years in our field of specialisation and can assist with a variety of legal claims in South Africa. Each team member has been carefully selected to meet the professional and personality requirements of the firm.
We are able to offer excellent service because of our strong passion, commitment and expertise in public liability claims. We want to give power to the people who feel helpless and we do it by giving them their rightfully deserved access to justice in a perfectly affordable manner. We provide legal assistance on "no win, no fee" basis.
We have "no win, no fee" service
At CP van Zyl Attorneys, we are experts in handling public liability claims.
We will investigate your case
The claimant can be the victim or a family member if the victim is the major breadwinner in the household. One of the most common examples of a public liability claim is a fall and slip claim.
The public liability compensation typically covers medical expenses, lost earnings and damages. In order to initiate the process, you need to contact us and arrange a consultation. We will investigate your case to determine whether a personal injury claim is viable. If this is legally possible, we will provide full assistance with the initiation and furthering of the claim. We can run negotiations and initiate litigation if a fair settlement is not reached. We have "no win, no fee" service.
CP van Zyl Attorneys – Public Liability Claim
Claim Type

Public Liability Claims
Benefits of CP van Zyl Attorneys
---
CP van Zyl Attorneys - We will guide you and keep you informed
In all of our actions, we are led by honesty and integrity.
When this is combined with our legal knowledge and skills, we are able to deliver the best legal services to the people who seek our help in making the public liability claim they are entitled to.
Claiming for compensation
These are claims for compensation for damages suffered by individuals due to injuries sustained in an accident resulting from a wrongful act including head injury claims. The injuries can be physical or psychological. We work hard for you to make the process as easy and hassle-free as possible.
We are well known for our public liability claims and we will continue to work hard and build strong cases. We have a proven success track record, having us on your side will be a benefit to your case.
CP van Zyl Attorneys Contact
Contact Number
E-Mail
Website
Physical Address
Charles Bramley St, Bailey`s Muckleneuk

Pretoria

South Africa