Dedicated professional service
Effective winning strategies
Contingency fee
In-page navigation
---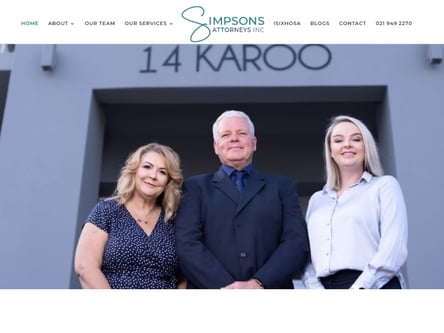 Author Simpson's Attorneys. Screenshot of Simpson's Attorneys website.


[Accessed April 3, 2023]
Simpsons Attorneys - experts in personal injury litigation
Simpsons Attorneys is a law firm specialising in personal injury litigation. It is based in Cape Town and serves clients in the city and the region. We have been operating for more than 20 years.
Over this time, we have built an excellent reputation based on our high success rate and our dedication to serving South Africans from all walks of life. We are dedicated to helping the victims of medical negligence and road accidents. We specialise in both public liability claims and product liability compensation.
Equal access to legal assistance
Our team consists of talented lawyers and specialists in the medical and other fields. At present we have three litigation attorneys and three candidate attorneys plus experts in medicine and finance. We all share a passion for excellence in everything which we do. We believe that everyone should have equal access to legal assistance in South Africa. That is why we offer a free initial consultation and no-win, no-fee services.
We initiate and litigate public liability claims
At Simpsons Attorneys, we are specialist injury lawyers for public liability. We initiate and litigate public liability and product liability claims on behalf of our clients. We have over two decades of experience in this field.
Our team consists of talented lawyers and other specialists who work together to reach the desired outcome for our clients. We provide dedicated personal attention. The combination of these factors explains our notable achievements over the years.
Effective winning strategies
If you have sustained an injury on the property of another party or on public property and you believe that the owner or occupier may be responsible for the accident, we can help you to receive public liability compensation for your suffering. You are welcome to consult us for free. We will investigate your case and institute a claim if there are legal grounds for doing so. We will develop and implement an effective strategy for winning the compensation award which you rightfully deserve.
Simpson's Attorneys – Public Liability Claim
Claim Type

Public Liability Claims
Benefits of Simpson's Attorneys
MOTOR Vehicle Accidents
PRODUCT Liability
ASSAULT & Wrongful Arrest
PUBLIC Liability & Slip And Fall Cases
DOG Bite Cases
RAIL Accidents
MEDICAL Negligence
---
Simpson's Attorneys - We have your legal needs covered
Simpson's Attorneys have over two decades of experience in assisting clients throughout South Africa, with all kinds of legal needs. Public liability claims are one of those legal issues that can be either quick and simple, or long and complicated.
Is your claim valid?
Depending on the incident and whether or not there is a public liability insurance in place, it is not easy to say how long the process can take. Simple incidents such as a slip and fall in a public area, for example, a shopping mall, public transport area or a business, with no major injuries, can be a cut and dry case, should the building or business owner has insurance for this kind of incident. If the client can prove there were no signs pointing to a wet or slippery floor, the case is simple and we can assist you to make a claim after which remuneration will be awarded to the client.
We care about our clients
In more complicated situations, where more than one person is injured, and the injuries are far more drastic, the case can take a little longer to resolve, as a full investigation would need to take place in order to prove negligence of the building or property owner. Other public liability cases can include compensation for dog bites or attacks, where the owner of the dog would be liable for the incident if the dog was not on a leash or if the dog is known to be vicious.
Whatever your situation may be, you can claim for loss of income if you have not been able to work because of your injuries. Pain and suffering from emotional trauma and medical bills can be covered by the public liability insurance cover. If you think you have a case, contact our firm today.
Provide us with all the reports and photographs you have that can add to your case, and we will determine if you have a case to take further or not. We work on a no win no fee basis, so you don't have to pay initially for your claim. We care about putting our clients first and will do whatever we can to make your case a winning one at the end of the day.
Simpson's Attorneys Contact
Contact Number
E-Mail
Website
Physical Address
14 Karoo St, Kempenville

Bellville

Cape Town

7530

South Africa
Opening Hours
Monday

08:00 – 16:30

Tuesday

08:00 – 16:30

Wednesday

08:00 – 16:30

Thursday

08:00 – 16:30

Friday

08:00 – 16:00

Saturday

– CLOSED

Sunday

– CLOSED