Proficient legal service
Extensive expertise
Trustworthy professionals
In-page navigation
---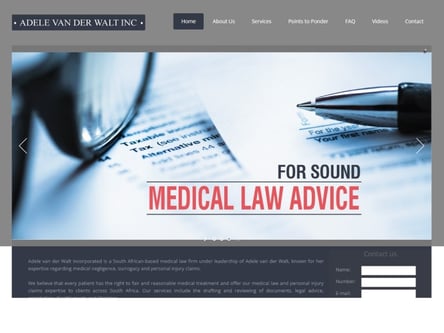 Author Medical Law. Screenshot of Medical Law website.


[Accessed April 3, 2023]
Adele van der Walt Incorporated - a small and energetic team
Our core goal is to deliver proficient legal services to accident victims throughout South Africa and beyond its borders.
At Adele van der Walt Incorporated, we provide services in the fields of medical law and medical negligence, public liability claims, insurance disability, surrogacy agreements and general High Court litigation. We have a small and energetic team focused on delivering services with a personal touch.
We will find the best solution
Our services are based on high work ethic, extensive expertise and commitment to helping our clients in the most effective professional manner.
We combine personal understanding with legal knowledge and skills to achieve the best outcome in every case. We use a diverse range of techniques based on the latest trends in the field of law and on our creative thinking.
We are dedicated to enabling our clients to receive justice and to obtain compensation for their suffering. We have built a reputation as trustworthy legal professionals with high achievements in our field of law.
We are trustworthy
Our job is to take care of your public liability claims. This is what we, at Adele van der Walt Attorneys, do for South Africans who are victims of accidents resulting from the wrongful acts of another party.
If you or a member of your family has suffered bodily injury or property damage on specific premises due to the negligence of the owner or the person responsible for the maintenance, you have the right to public liability compensation.
The compensation which victims are entitled to are designed to cover medical bills, loss of income and the experienced suffering.
We will investigate the case
The best advice which we can give to accident victims is to take legal action against the responsible party. We have many years of experience in this field and we can provide the expert service which you require for reaching your goal by making a legal claim. We will investigate the case and support it effectively. We can initiate and litigate a claim on your behalf.
Medical Law – Public Liability Claim
Claim Type

Public Liability Claims
---
Adele van der Walt medical law attorneys
Adele van der Walt medical law attorneys in South Africa, have an overwhelming passion for the legal system in this country. With a team of highly experienced medical-legal and liability attorneys, we understand the system, and how it works.
We work relentlessly on behalf of our clients, to ensure justice is served and that our clients are remunerated for their injuries and emotional traumas. When it comes to public liability claims, the process can be complicated depending on the type of case.
Public liability claims
Any public area or workplace should be insured or any public liability incidents. Should one of our clients be injured on duty in their business of work, their company will more than likely have the insurance to cover the costs of the injuries.
There are however some situations that can be a little more involved. Should an employee succumb to injuries at work, due to an accident, the clients' family can claim on their behalf for loss of income of the breadwinner in the family and so on.
There are many factors that contribute to a public liability claim. If you aren't sure if you have a case or not, feel free to contact our firm, and we will be happy to consult with you and derive a conclusion for you.
Contact us
Clients can claim a number of things, including loss of income, pain and suffering, medical bills as well as future surgeries or medical needs after the event and more. For more intricate incidents, the case could take a little longer, should there be mass or group casualties involved, and different law firms contributing to the case.
Whatever your situation may be, let us help you get the public liability or personal injury compensation of a financial remuneration awarded to you or your family, for the injuries and suffering caused by an incident that could have been avoided. We are available to chat over the phone, email, or simply make an appointment to see us.
Medical Law Contact
Contact Number
E-Mail
Website