World-wide claims service
Access to resources
Impecable reputation
In-page navigation
---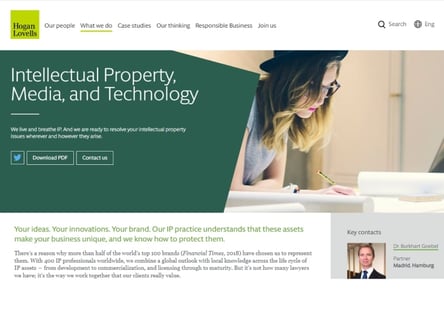 Author Hogan Lovells. Screenshot of Hogan Lovells website.


[Accessed April 3, 2023]
Hogan Lovells - Our practice is internationally renowned
As a global legal firm, Hogan Lovells has over 40 offices in Africa, Europe, Asia and the Middle East, Latin America and the United States.
There are 2,500 experienced and dedicated South African lawyers working in the firm. We are specialists in the resolution of business and legal issues both locally and globally.
We have access to knowledge and resources
We have recognisable strengths in various fields of law including litigation and arbitration. We have access to knowledge and resources in various industries. These include telecommunications, finance, media and technology, healthcare and real estate.
We are able to offer global solutions due to our exceptional transatlantic capability and reach into the primary economic, financial and intellectual centres around the world. We combine legal practice breadth with extensive geographical reach and vast industry knowledge. This enables us to provide legal advice and assistance in respect of a range of matters including product and public liability claims of the highest quality. Our practice is internationally renowned having highly collaborative culture.
We deliver the best solutions
Our expertise in administrative and public law and in product and professional liability enables us to deliver the best solutions to our clients.
At Hogan Lovells, we provide dedicated advice and assistance for the resolution of a variety of legal matters including public liability claims, personal injury claims and medical negligence claims. We are committed to acting in the best interest of our clients.
Impeccable reputation and high achievements
We have global resources, extensive experience in the field of law and a wide geographical reach. We have the depth of knowledge in industries related to the cases that we work on such as health care, finance and real estate. All of these factors allow us to deliver a service of exceptional quality in every respect. This is combined with professionalism and hard work.
We have everything necessary to achieve the best outcome in every public liability claim matter for each of our clients. We are proud of our global presence, impeccable reputation and high achievements. We are focused on innovation and growth.
Hogan Lovells – Public Liability Claim
Claim Type

Public Liability Claims
Benefits of Hogan Lovells
MEDICAL Negligence
PERSONAL Injury
PUBLIC Liability Claims
PRODUCT Liability Claims
---
Hogan Lovells - Let us help you settle your public liability claim
We are proud to mention that some of our associates are responsible for public liability claims, we are highly regarded as some of the most effective attorneys in Africa.
Your attorney will advise you on the best way forward for your case to secure a fair and satisfactory compensation. We will act fast to help you move your claim forward.
We always aim to win
We will contact the responsible party and any parties liable, and their legal representatives on your behalf, we will make the personal injury claim process as streamlined as possible. Once the due protocol has been followed, your lawyer will communicate with witnesses, request records and seek expert testimony for your case.
Our attorneys are highly qualified and skilled, be assured we will thoroughly investigate, and thereafter, build a strong public or product liability compensation case. We will represent your claim in the strongest manner, getting you the best possible compensation.
For more information on our services contact us today.
Hogan Lovells Contact
Contact Number
E-Mail
Website
Physical Address
140 West St, Sandown

Sandton

Johannesburg

2196

South Africa
---
Postal Address
P O Box 78333, Sandton, 2146, South Africa
Opening Hours
Monday

08:00 – 17:00

Tuesday

08:00 – 17:00

Wednesday

08:00 – 17:00

Thursday

08:00 – 17:00

Friday

08:00 – 17:00

Saturday

– CLOSED

Sunday

– CLOSED