Legal knowledge and skill
Initiate and litigate claims
Hardworking and flexible
In-page navigation
---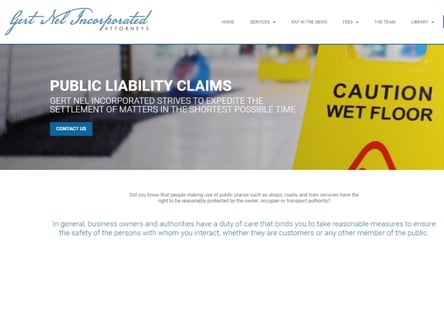 Author Gert Nel Attorneys. Screenshot of Gert Nel Attorneys website.


[Accessed April 3, 2023]
Gert Nel - full commitment and attention to detail
We are among the leading law firms specialising in personal injury law. What makes Gert Nel Attorneys stand out is our flexibility, full commitment and attention to detail.
We use our legal knowledge and skills to develop effective strategies for winning cases of various sizes and levels of complexity. We have experience in handling various types of claims from a road accident and public liability claims as well as a dog bite and medical negligence claims.
A hard-working team
Our team is strong and constantly focused on achieving the best outcomes for our clients. It includes two attorneys, four professional assistants and three candidate attorneys. We all work together to ensure that our clients receive the public liability compensation for the damages which they have suffered.
We are friendly and approachable as well as highly professional. We keep in touch with clients and provide regular reports. We build long-term relationships. We have the expertise required to help accident victims get justice.
You may be able to claim damages
All people who are on the premises of others have the right to be reasonably protected from accidents by those responsible for the premises.
If you have got injured on public premises such as a store, a road or a restaurant, you may be able to claim damages for physical and emotional injuries like stress and anxiety.
We initiate and litigate public liability claims
At Gert Nel Attorneys, we initiate and litigate public liability claims for compensation on behalf of our clients. Our law firm has vast experience with such claims and is able to provide complete dedicated legal assistance to accident victims and their families.
Various types of claims fall in the public liability category. The list includes slip and fall claims and train and aviation accident claims. When you come to us, we will evaluate your case closely and decide whether there are legal grounds for making a claim. If there are, we will initiate a claim for a reasonable compensation amount.
Gert Nel Attorneys – Public Liability Claim
Claim Type

Public Liability Claims
Benefits of Gert Nel Attorneys
ROAD Accident Fund Claims
PUBLIC Liability Claims
DOG Bite Claims
MEDICAL Negligence
MEDICO Legal Recoveries
---
Gert Nel Attorneys - We will validate your claim
Gert Nel Attorneys have a number of years in all legal fields. One area in particular which is covered by our legal experts, is public liability cases.
These cases are vastly included in a number of areas such as public transport areas, shopping malls, buildings, roads – basically anywhere that an individual has access to a public area which is protected by an owner. Any of these facilities or areas should by law have some kind of duty of care in place for incidents which could occur, whereby a person is injured and is entitled to make a personal injury claim.
Injuries for this kind of claim can include tripping, slipping, falling or being injured as a result of an injury either in a physical or emotional way. Clients can contact us should they not be sure if they have a public liability claim or not. We will take the incident into consideration and analyse it. We will be able to tell you if your incident would stand as a case or not.
To claim a case in the court of product liability, clients can claim compensation against the owner for:
Negligence of a public area/property which inflicted harm on a public person
Medical costs for any sustained injuries that may have needed medical care or surgery
Pain and suffering from emotional trauma
Loss of income compensation if the incident was so severe that the victim is no longer able to work and earn their usual income
Before we can come to any conclusion, a full investigation would need to be done to evaluate the extent of the damages, evaluate if the incident was, in fact, an accident, and if the client is worse off now financially than they were before the incident.
Give us a call, or drop us an email, to discuss your case further. Many of our clients come to us, with no idea how serious the incident actually was, and through their coming forward, have been able to save other clients from being injured by the same incident. Speak out now, and get the compensation you deserve.
Gert Nel Attorneys Contact
Contact Number
E-Mail
Website
Physical Address
1235 Cobham Road

Queenswood

Pretoria

0186

South Africa
---
Postal Address
PO Box 11614, Queenswood, 121, South Africa
Opening Hours
Monday

08:00 – 16:30

Tuesday

08:00 – 16:30

Wednesday

08:00 – 16:30

Thursday

08:00 – 16:30

Friday

08:00 – 16:30

Saturday

– CLOSED

Sunday

– CLOSED