Expert conflict resolution
Dedication to personal service
Cost effective solution
In-page navigation
---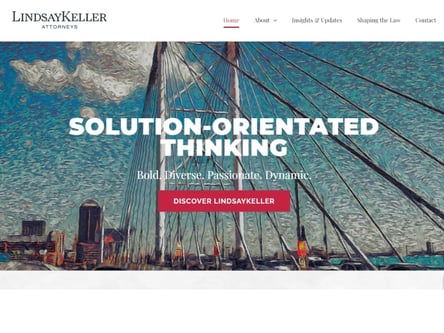 Author Lindsay Keller. Screenshot of Lindsay Keller website.


[Accessed April 3, 2023]
Lindsay Keller - We have an expert team
For more than 73 years, Lindsay Keller has been a leader in insurance litigation. We have always based our strategies on forward thinking and the latest legal development.
We are among the major firms in our field both in Johannesburg where we are based and in the whole of South Africa. We are specialists in other fields in addition to insurance litigation. We have excellent competency in commercial and administrative law, estate law, consumer protection law, labour law and competition law.
We are experts in conflict resolution
We use effective strategies including conciliation, mediation and arbitration. We have a diverse track record of achievements and have assisted clients to obtain public liability compensation or any other compensation depending on the case. Our legal team is in court every week.
We are often involved in cases which get reported in the media. Our hard work is combined with dedicated personal treatment of our clients. We build strong bonds with the individuals, businesses and institutions that choose to work with us.
Timely, efficient and cost-efficient solutions
With specialisation in legal dispute settlements, we are able to assist you with your public liability claim. Lindsay Keller is a law firm which has the resources and capabilities to provide the best solution to each and every client. We are experts in litigation and insurance litigation in particular.
At the same time, in our practice, we use a variety of methods for reaching a settlement. These include mediation and arbitration. Two of the partners in our law firm are mediators with international accreditation. We are focused on providing timely, efficient and cost-efficient solutions to our clients.
We have direct access to specialists
Our expertise goes beyond the field of public liability and personal injury claims. We are specialists in various other fields of law.
We work on cases involving labour law, commercial law, property law and competition law. We have direct access to specialists and resources in other fields relating to our cases. We are fully equipped for taking large and complex cases and for reaching the goals set by clients.
Lindsay Keller – Public Liability Claim
Claim Type

Public Liability Claims
Benefits of Lindsay Keller
PERSONAL Injury Litigation
PERSONAL And Public Liability Claims
---
Lindsay Keller is an insurance attorney firm
Lindsay Keller is an insurance attorney firm, specialising in public liability cases in the South African market. As a dual role attorney firm, we have expertise that reaches a lot further than legal we cover the insurance aspect as well.
Public liability claims can occur in a number of ways. You could be an employer at a business and get injured by a freak accident or your computer and clothing are damaged by a burst water pipe – the list can continue.
Often clients aren't sure if their incident is that of a public liability or not, so we do encourage you to chat to our team as soon as possible, so we can analyse the situation, and let you know if you have a case or not.
Most businesses should have a product liability insurance. This protects them from product liability claims brought on them by incidents that happen. These often occur at no fault of the business owner, and often through factory faults or manufacturing defects.
Public liability claims
Clients can claim in two ways when it comes to public liability: smaller and more regular claims that involve a small remuneration amount. This includes things like public walkways, potholes, construction sites, etc. these are often areas that have a regular incident rate on the public.
The second type of case is those that are more severe, and require a much bigger remuneration bracket. These can include faulty pipes causing a gas explosion, or drinking water that is contaminated. These cases may include a mass casualty and a large settlement may be in order.
For any public liability case, the client may be eligible to claim for:
Past and future medical expenses
Past and future loss of earnings
General damages, pain and suffering
Support loss, in the case of death
If you think you have a loss of support claim or have been involved in an incident that could be eligible as a public liability case, contact us as soon as possible, and we will engage with you in an appointment, to discuss your matter further.
Lindsay Keller Contact
Contact Number
E-Mail
Website
Physical Address
6th Floor, The Mall Offices, 11 Cradock Ave

Rosebank

Johannesburg

2196

South Africa
---
Postal Address
P O Box 195, Saxonwold, Johannesburg, 2132, South Africa