Malcolm Lyons & Brivik Attorneys
Established in 1965
Constantly innovating
Efficient and effective
In-page navigation
---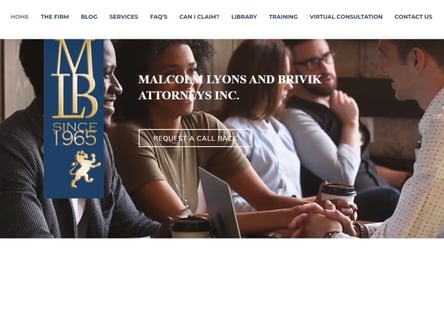 Author Malcolm Lyons & Brivik Attorneys. Screenshot of Malcolm Lyons & Brivik Attorneys website.


[Accessed March 31, 2023]
Malcolm Lyons & Brivik Inc. Attorneys - We get positive results
Malcolm Lyons & Brivik Inc. Attorneys was started in 1965 and since then we built one of the highest success rates in the claims industry. We are one of South Africa's oldest law firms.
Malcolm Lyons & Brivik Inc. Attorneys are acknowledged as leaders in the industry and have a reputation for winning high income loss compensation amounts for our clients who have been affected by the loss of support.
We have an innovative approach
Malcolm Lyons & Brivik Inc. Attorneys have influenced high profile historic legal decisions, we recognise the need for changing with the times, and we are constantly innovating.
Our team of legal experts consists of 6 lawyers and 2 candidates, and we are also connected with legal firms in Europe and America, allowing for effective handling of international cases.
Superior legal services for loss of support
Malcolm Lyon & Brivik Inc offer a wide range of legal services for loss of income claims. We will handle the necessary communications and paperwork with the deceased's employers and family.
Malcolm Lyon & Brivik Inc will present your case in light of the entire effects of the loss, and what is needed for you to continue your livelihood.
In the event of a loss of support claim, the claimants must show that the deceased's death was a result of the negligence of another party such as an anaesthesia death claim. In order to do so, it is best to employ the service of Malcolm Lyons & Brivik Inc.
We stay up to date with current laws
The firm's attorneys frequently attend conferences and workshops to ensure that they are aware and up to date with the current laws and revolutionary cases.
We are well known in the industry for providing efficient and effective legal services. We aim to maintain our ethical responsibilities to our client and society.
Malcolm Lyons & Brivik Attorneys – Loss of Support Claim
Claim Type

Loss of Support Claims
Benefits of Malcolm Lyons & Brivik Attorneys
MEDICAL Law
MEDICAL Malpractice
MEDICAL Negligence
HOSPITAL Negligence
DIGITAL Health Legal Services (eHealth)
ROAD Accident Fund Claims
THIRD Party Claims
PERSONAL Injury
PRODUCT Liability
LABOUR Law
AVIATON Accident Law
---
Malcolm Lyons & Brivik - Honest and affordable legal services
There may be a situation in your life, which could be totally unexpected, which takes away your ability to earn your normal income, or even carry on working. With circumstances that are out of our control, be it a disability, accident or even death, clients can rely on us to get their claim covered, including funeral costs.
If you are involved in an accident that wasn't your fault, we will provide the assistance to claim against the person that caused the accident. By providing the legal assistance to maintain the financial benefits due to you, you can ensure we will do whatever it takes to help our clients. We care about you and your family, and by providing the support you need to get what is owing to you, is where our obligation lies.
Is your claim valid?
The situations you can claim for include medical negligence claims, road accidents, criminal injuries and any other action that resulted in death, due to the direct causal negligence of another party. If these parameters can be proved, and you can show that you depended entirely on the person who is deceased, then your claim is valid and we can start building your case.
In this case, you must then contact a legal firm to start the processes of your claim. We will advise you on the processes for compensation, as sometimes an out of court settlement is preferable.
Malcolm Lyons & Brivik will handle the entire process for you, and facilitate all the necessary communications and documentation. The firm is dedicated to providing honest and affordable service and getting your loss of support claim processed as fast as possible.
If you need to lay a claim of loss of support, be it due to a drunk driver or negligent doctor, Malcolm Lyons & Brivik Inc is ready to handle your case with the utmost care and dedication.
Malcolm Lyons & Brivik Attorneys Contact
Contact Number
E-Mail
Website
Physical Address
3 St Georges Mall

Cape Town

8001

South Africa