Ronald Bobroff & Partners
Leaders in medico-law
Diverse team of specialists
History of excellence
In-page navigation
---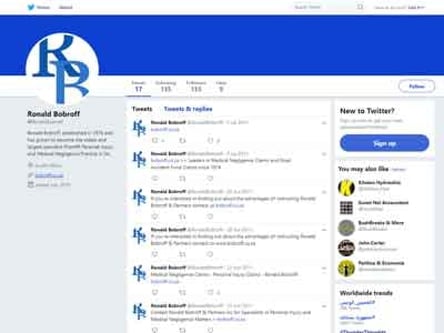 Author Ronald Bobroff & Partners. Screenshot of Ronald Bobroff & Partners website.


[Accessed April 5, 2023]
Ronald Bobroff & Partners Inc - The leaders in medico-law
Ronald Bobroff & Partners is one of the leading law firms in South Africa. Established in 1974 by Ronald Bobroff, the firm dedicates its time and resources to serving South Africans who have suffered due to medical negligence and malpractice ever since.
Currently, they are the oldest and largest specialists in plaintiff personal injury as well as medical negligence cases in the country. Over the years, we have expanded our services to include loss of support claims, assault claims, dog bite claims and many more.
A dedicated team
We are dedicated to serving victims like you. We have a diverse team of specialists in the legal, medical and other fields to ensure that we build the best case for you. Ronald Bobroff & Partners has a history of excellence with a track record of handling complex income loss and medical negligence claims with great care and success.
Our firm's founder, Ronald Bobroff is an internationally renowned expert, president of SAAPIL and is a lecturer at the University of the Witwatersrand Medical School.
A dedicated team of expert on your side
Let Ronald Bobroff & Partners assist you with receiving compensation for the loss of a loved one who supported you financially.
We are specialists in loss of support claims with many years of experience. Our dedicated team of experts will investigate your claim, collect evidence, and build the strongest possible case for you.
Claims due to negligence
Dependents of a breadwinner in a family are eligible for financial support in the event that the breadwinner dies due to an act of negligence or another wrongful act.
All dependants including the spouse, children, grandchildren and parents of the deceased can make a claim for support.
As long as there is proof of the wrongful act and of the relationship of the dependants with the breadwinner, the compensation amount can be determined we will build a case for your claim.
Contact our team directly to assess and assist your loss of support claim.
Ronald Bobroff & Partners – Loss of Support Claim
Claim Type

Loss of Support Claims
Benefits of Ronald Bobroff & Partners
MEDICAL Negligence
ROAD Accident Fund
MOTOR Vehicle Accidents
MOTORCYCLE Accidents
LOSS Of Support Claims
SLIP And Fall Claims
DOG Bite Claims
PUBLIC Liability Claims
PRODUCT Liability Claims
BOATING & Rail Accidents
PERSONAL Injury
DIVORCE & Family Law Matters
---
Ronald Bobroff & Partners - we specialise in loss of income support
If you are involved in a situation that takes away your ability to carry on working as normal, be it an accident, medical negligence case, or any other misfortune, depriving you of earning a normal income, we can help you by instituting a loss of support claim.
Clients are able to contact us directly, through one of our conveniently positioned offices countrywide. We will examine your case, and the reasons for your inability to earn an income, and derive from a legal case that will compensate you for loss of income support.
We can provide the financial support you need
We have extensive experience in providing clients with these services, which at the end of the day, provide the financial support you need. The stress of any incident that takes away your ability to be the breadwinner in the family, can take a major toll on you emotionally and financially. Your family depends on you to provide the financial means to stay afloat. Our team of experienced lawyers takes an aggressive approach to ensuring the well-being and financial security of our clients.
We will appoint the right person to you, who will be there throughout the process of making a loss of income claim and the attached legal proceedings, and take ownership of your case. Medical negligence, accidents and disabilities can occur without a moment's notice. This is often out of our control, and our clients need a law firm they can trust to have their best interests at the pinnacle of their service delivery. You can rest assure, that Ronald Bobroff & Partners are here to provide you with this and more.
We have a passion for winning cases
Our reputation for winning our loss of income, medical malpractice and personal injury claims and cases is well known, and our passion for our clients is proven to be our driving point in our winning ability.
Clients who fall victim to fatal injuries due to unexpected and accidental situations will still get the support and services of our firm, to ensure your families are taken care of and justice is served. We will take your case to ensure your family is compensated accordingly, as well as funeral arrangements and costs involved.
Our customers come first, and your financial wellbeing is what we are after in the outcome of every case we take on. Contact one of our attorneys today, set up a meeting, and let us go through your case with you, to ensure you get the justice you deserve.
Ronald Bobroff & Partners Contact
Contact Number
E-Mail
Website
Physical Address
37 Ashford Road

Parkwood

Johannesburg

2121

South Africa
---
Postal Address
P O Box 1170Parklands, Johannesburg, 2121, South Africa