Expert medico-legal advice
Compassion for clients
Contingency fee
In-page navigation
---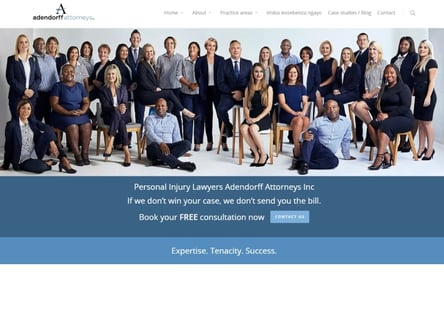 Author Adendorff Attorneys. Screenshot of Adendorff Attorneys website.


[Accessed March 31, 2023]
Adendorff Attorneys - You have aright to fight for justice
Adendorff Attorneys is a Pretoria based law firm, specialising in motor vehicle accidents (MVA) and personal injury claims.
The firm is driven by the belief that all clients have the right to access legal services and a just solution to their claims.
No win - No fee
In order to achieve this goal, Adendorff Attorneys operates on a contingency of 'no win, no fee'.
What this means is that the firm will cover all the expenses of litigation, bringing witnesses to court, access to specialised and experienced advocates and getting expert medico-legal advice. Adendorff is on your side and ready to handle your road accident fund claims.
An effective and professional service
The process of lodging and pursuing a Road Accident Fund claim successfully is long, bewildering and difficult to navigate, taking up all of your time when you should be recovering from the accident.
Lawyers specialised in MVA claims can help you maximise your compensation from the responsible party. Adendorff Attorneys will guide you through the legalities of claiming, providing you with high quality legal and medical expertise along with efficient and professional service.
We will treat you with compassion
The firm aids to provide you, the prospective client, with the compassion, respect and dignity you deserve. Adendorff will have you gather the reports and documents you will need to prove that you are eligible for third party compensation from the person who caused the accident, and/ or the Road Accident Fund. The collation of these documents is ultimately to show that the driver of the other vehicle was in some way negligent and could have prevented the accident.
Adendorff Attorneys – Motor Vehicle Accident Claim
Claim Type

Motor Vehicle Accident Claims
Benefits of Adendorff Attorneys
TRAIN Accidents
MEDICAL Negligence / Birth Injuries
SLIP And Fall Accidents
POLICE Unlawful Arrest / Detention & Assault
PRODUCT Liability / Defective Products
DOG Bites
BURN Injuries
SPINAL Cord Injuries
HEAD And Brain Injuries
---
Adendorff Attorneys - We can help you
It is important to take the details of the accident in as much detail as possible. It may be difficult at the time, but if you don't do it, you may lose the details you need for a successful motor vehicle accident claim. This information will go to the police, your insurance and your attorneys.
It is always important to have the contact information for emergency services on hand.
Nationwide Emergency Response (10111).
Alternatively Netcare (082911)
or ER24 (084124) for emergency medical care.
Take note of the other driver's:
name
address
car insurance details
contact number
identity/passport number
and license details.
Take photos or note any damages or aspects of the road that may have induced the accident, such as a pothole.
The first thing to do when you want to claim against someone is to find out whether your road accident fund claim has merit. For this reason, it is recommended that you first contact us at Adendorff for a free consultation.
Once we know you have a potential case, we will help write it up on a statutory claim form which is how you apply for compensation. The purpose of this form is to provide an official record of the date, time and location at which the accident took place, the personal details of the claimant and other parties involved in the accident, and details of the vehicles.
The claim form will also contain an affidavit containing a description of how the accident happened, witness statements and their personal details, police reports and a medical report by the treating medical practitioner and associated hospital and medical records.
In order to prove a claim, you will need to show that the driver of the other vehicle was in some way negligent, signifying that the accident could otherwise have been avoided. The claim process is difficult to navigate, which is why it is important to consult an expert, we at Adendorff Attorneys will bear the burden of making sure your claim reaches a satisfactory conclusion.
Who can claim?
Anyone who has been injured due to the negligence of another motorist or company on the road. This includes:
Drivers;
Pedestrians;
Passengers;
Cyclists/motorcyclists;
Dependents of deceased breadwinner.
Adendorff Attorneys Contact
Contact Number
E-Mail
Website
Physical Address
2nd Floor Tyger Valley Chambers Three, 27 Willie van Schoor Drive (Durban Road)

Belville

Cape Town

7536

South Africa
---
Postal Address
PO Box 4034, Tyger Valley, Pretoria, 7536, South Africa