Joseph's Incorporated Attorneys
Experts in personal injury claims
Maximise compensation
Free consultation
In-page navigation
---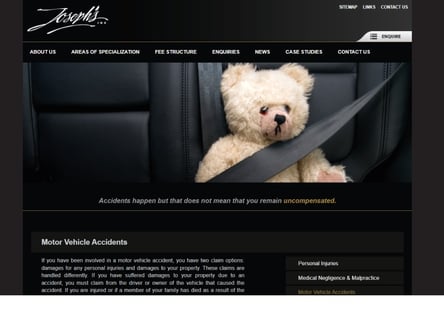 Author Joseph's Incorporated Attorneys. Screenshot of Joseph's Incorporated Attorneys website.


[Accessed March 31, 2023]
Joseph's Incorporated Attorneys - Experts in personal injury
Joseph's Incorporated Attorneys is a Johannesburg based law firm specialised in personal injury claims.
The firm has been established for more than 25 years and operates in a strong ethical and time efficient manner.
We have in-house medical experts
Joseph's boasts its own in-house medical consultants to expedite the claims process.
Joseph's has been responsible for landmark cases in personal injury law, gaining respect from other members of the medico-legal profession.
In order to save the client from wasting time on fruitless claims, Joseph's offers all potential clients a free first consultation.
Joseph's Incorporated Attorneys will offer you the best advice on how to proceed with your motor vehicle accident claim.
We will maximise your compensation
Motor vehicle accidents can happen to anyone on the road, leaving you stranded and emotionally wrecked.
If you have been the victim in a motor vehicle accident, Joseph's will help you claim successfully from the responsible parties, be they individuals, companies or the Road Accident Fund.
Get your free consultation
Joseph's Incorporated Attorneys offers a free first consultation to all potential clients. During this meeting, your attorney will determine whether your car accident claim is valid and advise you on how to next proceed with the case.
The process of claiming from the Road Accident Fund (RAF) or an individual is not easy and can be very time-consuming.
Joseph's aims to guide their clients through the channels of making a claim and bear the burden of ensuring your claim is processed correctly and efficiently in order to maximise your compensation and get it to you as soon as possible so that you can get your life back on track.
Joseph's Incorporated Attorneys – Motor Vehicle Accident Claim
Claim Type

Motor Vehicle Accident Claims
Benefits of Joseph's Incorporated Attorneys
PERSONAL Injuries
MEDICAL Negligence & Malpractice
MOTOR Vehicle Accidents
AIRCRAFT Accidents
POLICE Brutality
RAILWAY Accidents
DOG Bite Victims
INJURIES Sustained In Public Places
---
Joseph's Incorporated Attorneys - We will keep you in the loop
If you are involved in a car accident and you or your passengers are injured, it is important to try to remain calm and assess the situation.
You should try to always have the contact number of emergency services somewhere at hand. The Nationwide Emergency Response number is: 10111
It is important to take down as much detail of the accident as possible, most important are the details of the driver responsible: name, address, car insurance details, contact number, identity/passport number, number plate, and license details.
Take photos of the damages incurred due to the motor accident, so that you have a reliable record of the extent of the damage. This information is what you will provide the police and your attorneys with. You need to report the accident to the police within 48 hours, whereupon you will be given a case number, which both your insurance and attorneys will need.
How to claim
Those fortunate to have foreseen the potential of a motor vehicle accident and have car insurance can process their road accident fund claim for material damages to their vehicle through the insurance company. If, on the other hand, you do not have car insurance or need to claim for medical expenses and/or loss of earning or trauma suffered, then the onus is on you to claim directly from the person who caused the accident.
If you wish to claim from the RAF, you will need to complete a statutory motor vehicle accident claim, formally stating and describing the motor accident. Once the claim has been lodged, Joseph's Incorporated Attorneys will take over the litigation and settlement of the case. They will keep you updated at each stage in the process.
Joseph's Incorporated Attorneys Contact
Contact Number
E-Mail
Website
Physical Address
9 Bompas Road

Dunkeld

Johannesburg

2196

South Africa
---
Postal Address
PO Box 1967, Saxonwold, 2132, Johannesburg, 2132, South Africa