Michael de Broglio Attorneys
Reliable legal firm
15 Years' experience
No deposit
In-page navigation
---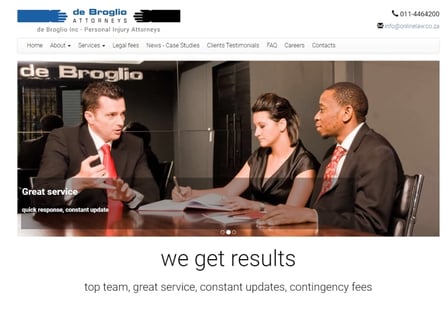 Author Michael de Broglio Attorneys. Screenshot of Michael de Broglio Attorneys website.


[Accessed March 31, 2023]
Michael de Broglio Attorneys - A reliable legal service
De Broglio Attorneys is a Gauteng based law firm with offices in Parkwood, Johannesburg and Brooklyn, Pretoria. Michael de Broglio qualified as an attorney in 1995.
He is a Councillor of the Law Society of the Northern Provinces. Previously, he Chaired Disciplinary Enquiries and sat on the Societies Fee Assessment Committee.
Michael is a past Chairperson of the Gauteng Law Council and Chairperson of the Johannesburg Attorneys Association.
A reputation for exelence
Michael studied at the University of the Witwatersrand, receiving a BA in English and International Relations, an LLB and most recently an LLM (Masters) which he obtained in Tax Law.
With 15 years of legal experience, de Broglio Attorneys have developed a reputation for excellence and efficiency in motor vehicle accident claims.
Aware of expenses involved in claiming from the Road Accident Fund (RAF), de Broglio Attorneys offers the option of claiming on a 'no win, no fee' basis.
Affordable legal services
500 000 people are injured on South Africa's road each year, with 10 000 deaths resulting from negligence on the road.
Motor vehicle accidents can happen to anyone on the road, but de Broglio Attorneys is committed to helping clients recover their lives as quickly as possible. de Broglio Attorneys will take over your Road Accident Fund claim and ensure you receive just compensation from responsible parties, be they individuals, companies or the Road Accident Fund.
High-quality legal aid
The process of claiming from the Road Accident Fund (RAF) or an individual can be complicated, confusing and traumatic, De Broglio Attorneys aims to guide its clients through the channels of claiming compensation, providing them with high quality legal and medical expertise.
In order to provide legal services to those who would not normally be able to afford high-quality legal aid, De Broglio Attorneys operate on a 'no win, no fee' basis. The firm covers all the expenses incurred during the road accident claims process, including, bringing witnesses to court and providing medico-legal expertise. No deposit is required to finance a claim, so the client will not have to get a loan to initiate the process.
Michael de Broglio Attorneys – Motor Vehicle Accident Claim
Claim Type

Motor Vehicle Accident Claims
Benefits of Michael de Broglio Attorneys
MOTOR Accidents
ROAD Accident Fund
MEDICAL Negligence
DIVORCE
---
Michael de Broglio Attorneys - We can help you claim compensation
If you have been involved in a car accident, you may want to claim for damages either from your insurance or directly from the individual responsible.
If you were not at fault, your insurance should take over claiming from the other party's insurance. If you were at fault, you can claim from your insurance, but know that by doing this you legally admit fault for the incident.
How to claim for MVA's
If you or the other party do not have insurance then you will have to claim directly from the person who caused the accident or institute a Road Accident Fund claim. In order to claim successfully, the responsible party must have at least one of the following: motor vehicle insurance was driving a company vehicle that is insured, or possess personal assets that can cover the value of damages suffered by you, the claimant.
De Broglio Attorneys will take over the litigation of the case for you, ensuring that the right documents are collected and that your motor vehicle accident claim is processed successfully, making sure you receive the appropriate compensation.
De Broglio Attorneys will keep you up-to-date with the case and advise you at each stage in the process of making the third party claim. The firm is conveniently located close to the RAF offices in Pretoria, which expedites the claim process.
Michael de Broglio Attorneys Contact
Contact Number
E-Mail
Website
Physical Address
127 Jan Smuts Avenue

Parkwood

Johannesburg

2193

South Africa
---
Postal Address
P.O. Box 2013, Parklands, 2121, South Africa
Opening Hours
Monday

08:30 – 17:00

Tuesday

08:30 – 17:00

Wednesday

08:30 – 17:00

Thursday

08:30 – 17:00

Friday

08:30 – 17:00

Saturday

– CLOSED

Sunday

– CLOSED