Levin van Zyl Incorporated
Professional service
Fight for your rights
'No win, no fee' basis
In-page navigation
---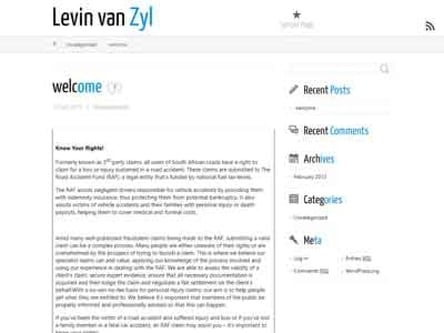 Author Levin van Zyl Incorporated. Screenshot of Levin van Zyl Incorporated website.


[Accessed April 5, 2023]
Levin van Zyl - We will fight for your rights
Lenin van Zyl Incorporated is a reputable group of legal experts conveniently located in Randburg, central Johannesburg.
The firm aims to provide top quality, effective and speedy legal services to both the private insurance and public sectors. Lenin van Zyl comprises a group of 9 attorneys, 5 candidate attorneys and 28 support staff members.
Our advantage in the marketplace comes from the following characteristics:
Risk management of potential solutions
Fee structure
Ability to provide information and solutions within limited time frames
Lenin van Zyl Attorneys is specialised in motor accident claims and claiming from the Road Accident Fund.
The firm will assist clients with the lodging of claims, securing expert evidence, negotiating a settlement and trial litigation should an adequate settlement not be reached. Lenin van Zyl Attorneys work on a 'no win, no fee' basis for all personal injury claims.
Efficient and professional service
Lenin van Zyl Attorneys will guide you through the legalities of making a claim, providing you with high quality legal and medical expertise along with efficient and professional service.
The firm aids to provide you, the prospective client, with the compassion, respect and dignity you deserve. In order to help you determine whether your claim is valid, they offer a free first consultation.
Claiming from RAF
According to the Road Accident Fund Act of 1996, one is insured against injuries suffered at the hands of another driver; this includes both drivers and passengers.
In order to be eligible to claim from the Road Accident Fund, it must be proven that the driver of the other vehicle was in some way negligent.
The Road Accident Fund protects negligent drivers from financial ruin following the accident they caused, but compensates victims and their dependents for medical costs, injuries, loss of income, disability and even death and funeral costs in the case of road accident fatalities with Road Accident Fund claims.
Levin van Zyl Incorporated – Motor Vehicle Accident Claim
Claim Type

Motor Vehicle Accident Claims
Benefits of Levin van Zyl Incorporated
MEDICAL Negligence Claims
ROAD And Vehicle Accident Claims
ROAD Accident Fund Claims
FAMILY Law
LABOUR Law
UNLAWFUL Arrests
TENANT Evictions
COMMERCIAL Law
---
We can help you secure financial support
The first step in claiming is seeing an expert in motor vehicle accident claims at Lenin van Zyl Attorneys. Your lawyer will assist you in evaluating the validity of your claim and formulate an official description of the accident and what caused it
Who is eligible to claim?
Any person who has been injured in a motor vehicle accident, at fault or not, can claim. This includes drivers, pedestrians, cyclists and passengers.
We will collect the relevant documents required to prove your cases, such as police, medical, insurance, financial reports and witness testimonies. Once you have gathered the necessary documents that illustrate your need for personal injury compensation they will be lodged as an action against the individual that caused the accident.
Proving a third party claim requires that you show definitively that the driver of the other vehicle was irresponsible and that the accident would have been prevented if not for their negligent actions. This may entail photos and witness statements that attest to the damages caused and a police report to show they acknowledged that the accident took place and that they were involved.
Lenin van Zyl Attorneys will assist you in finding an accredited medical practitioner who can assess your injuries and the treatment required for you to reach a state of 'maximum recovery'. They can also help you secure financial support to cover you until your compensation is paid out.
Levin van Zyl Incorporated Contact
Contact Number
E-Mail
Website
Physical Address
The Northcliff Law Chambers, 160 Bagley Terrace

Northcliff

Johannesburg

2195

South Africa
Opening Hours
Monday

08:00 – 17:00

Tuesday

08:00 – 17:00

Wednesday

08:00 – 17:00

Thursday

08:00 – 17:00

Friday

08:00 – 17:00

Saturday

– CLOSED

Sunday

– CLOSED