Malcolm Lyons & Brivik Attorneys
Established in 1965
Personalised client service
Thorough investigations
In-page navigation
---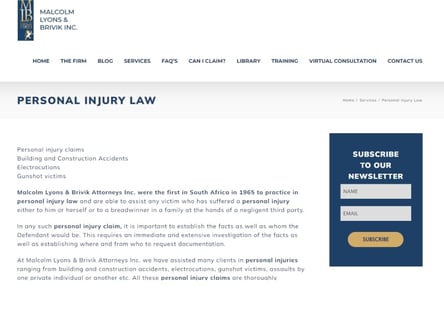 Author Malcolm Lyons & Brivik Attorneys. Screenshot of Malcolm Lyons & Brivik Attorneys website.


[Accessed March 31, 2023]
Malcolm Lyons & Brivik - Expert legal skills
With 50 years of history behind us, we, at Malcolm Lyons and Brivik Inc., have the ability and skills to handle even the most complex and largest of personal injury claims and win high compensation for our clients.
Our legal firm was established in 1965. It was the first to specialise solely in personal injury law. Now we are leaders in our field thanks to our commitment, professionalism and impressive record of achievement.
We act quickly and efficiently when we take up a case
Our approach is always based on a well-defined strategy and this gives us the best chances of success with any third party claim. We are focused on offering completely personalised client service based on maintaining regular contact and reporting developments.
Our team of legal experts consists of 6 attorneys and 2 candidate attorneys. We work closely with medical and other specialists to achieve the best outcome for each client. Our associates in Europe and the USA assist us with international cases.
You can receive justice
We are proud of the fact that we, at Malcolm Lyons & Brivik Attorneys Inc., were the first South African law firm to specialise in personal injury law. Since 1965, we have helped many accident victims and their families to receive justice and to get compensated for their suffering.
We have expert attorneys, specialists in various fields and a great experience. We use this combination of resources to deliver the best service and to achieve the desired outcome for our clients who make a claim through us.
An expert team on your side
In order to be able to institute a personal injury claim, we focus on the establishment of the facts and the party responsible for the accident. For this, we conduct a thorough investigation immediately. We use the expertise of outside consultants when necessary to build a solid case.
The extensive preparatory work is essential for success and for receiving maximum road accident, brain or head injury or slip and fall compensation. We can then focus on reaching a settlement and on litigation if required.
Malcolm Lyons & Brivik Attorneys – Personal Injury Claim
Claim Type

Personal Injury Claims
Benefits of Malcolm Lyons & Brivik Attorneys
---
Malcolm Lyons & Brivik Inc. Attorneys - Personal injury law specialists
Malcolm Lyons & Brivik Inc. Attorneys are one of the very few attorney firms who have a five-decade history in the legal industry.
Our firm started practising law in early 1969, and since then, we have developed and accumulated a clientele of clients who have relied on us to fight on their behalf. This is the experience that speaks highly of our reputation in the country, for stability and reliability when it comes to looking for the right legal firm to handle your case.
We are highly successful at putting our clients first
Personal injury claims are a specialised area of our expertise. We have allocated attorneys who specialise in this area of law and can help you with your case. If you have been injured, attacked or even emotionally traumatised through a personal injury, let us help you. Personal injuries can vary from animal attacks, electrocutions on the job, police brutality and much more. We have a broad spectrum of legal experience covering, but not limited to:
Personal injury claims
Building & Construction Accidents
Electrocutions
Gunshot victims
Personal injury claims such as assault claims that involve criminal activities and intent to harm the person who has sustained the injuries, is one area that is very common in today's society. We can assist you with your case if you have been hurt in such an incident.
Contact one of our highly specialised and experienced attorneys today, and let us assess your case and take it forward. The time frames can be extremely tiring and long-winded, however, we will be by your side throughout the time of the case, and will support you at every step of this journey.
Personal injury such as brain and head injury claims can be inflicted by a number of situations, so with any evidence and proof you have to add to your case, you can only add to a more convincing and positive outcome for yourself. Don't be a victim without justice, let us help you get the compensation you rightfully deserve.
Malcolm Lyons & Brivik Attorneys Contact
Contact Number
E-Mail
Website
Physical Address
3 St Georges Mall

Cape Town City Centre

Cape Town

8001

South Africa