Highly experienced
Favourable resolutions
Time-efficient and cost-effective
In-page navigation
---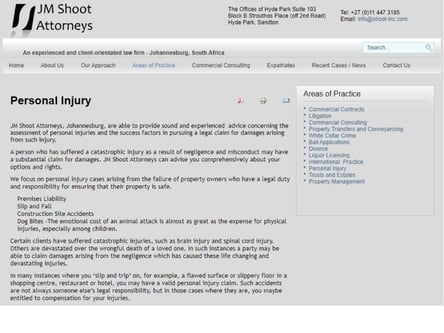 Author JM Shoot Attorneys. Screenshot of JM Shoot Attorneys website.


[Accessed March 31, 2023]
JM Shoots - A reputable law firm
There is no such thing as one-size-fits-all when it comes to the resolution of legal matters.
For this reason, we, at JM Shoot Attorneys, develop a unique strategy for each and every case that we work on.
Each case receives personal attention
We offer a combination of in-depth knowledge, considerable practical experience and personal attention.
When you work with us, you can have high confidence about the favourable resolution of your personal injury claim. We provide legal representation of the highest quality in a time-efficient and cost-efficient manner.
We place the major focus on the legal goals of our clients and use our full set of professional resources to achieve them.
We offer assistance with various types of personal injury cases
At JM Shoot Attorneys, we provide sound professional advice on the assessment of personal injury claims.
This enables us to outline the factors for success in the pursuit of a legal claim for all damages resulting from the injury.
We will keep you updated
We will provide information and advice on your rights and on exercising them. If our investigation shows that you have the legal grounds for making a claim, we will enforce is against the responsible party and provide full assistance for receiving the compensation which you deserve.
We are highly experienced and fully professionals. That is why with us, you are in good hands.
JM Shoot Attorneys – Personal Injury Claim
Claim Type

Personal Injury Claims
Benefits of JM Shoot Attorneys
COMMERCIAL Contracts
PROPERTY Transfers And Conveyancing
PERSONAL Injury
TRUSTS And Estates
---
JM Shoots Attorneys - Expert legal representation
We are able to deliver the best service and to reach the best outcome for our clients. We specialise in different fields of law.
Some of our major areas of practice include personal injury, litigation, commercial contracts and consulting, liquor licensing and trusts and estates. We have international practice as well.
Personal injury claims
We offer assistance with various types of personal injury cases including construction accidents, slip and fall claims and dog bite claims among others.
If you have suffered injury due to negligence or misconduct of another party, you can obtain compensation for medical expenses, income loss and other damages including pain and suffering.
With personal injury claims, the timeframe for a successful payout can be a couple of years, for this reason, it is important for you to contact us as soon as possible after the incident.
JM Shoot Attorneys Contact
Contact Number
E-Mail
Website
Physical Address
The Offices of Hyde Park Suite 103 Block B Strouthos Place (off 2nd Road) Hyde Park

Sandton

Gauteng

2193

South Africa