Comprehensive legal advice
Personal attention
Beneficial solutions
In-page navigation
---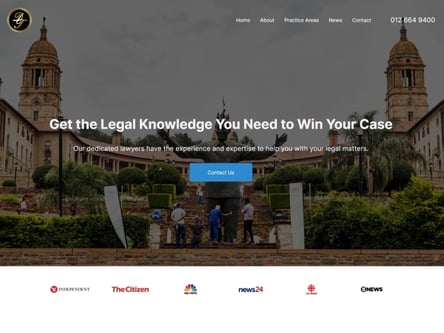 Author Du Toit Attorneys. Screenshot of Du Toit Attorneys website.


[Accessed March 31, 2023]
Du Toit Attorneys - Expert legal advice
Du Toit Attorneys is a small legal firm and this is one of its major advantages. We combine long-term experience and professional expertise with personal attention to each and every client. We specialise in multiple fields of law.
These include personal injury and public liability claims, family law and criminal law. We are able to provide legal advice and services in the field of commercial law together with our associates. The director of our firm is Marius du Toit.
Effective legal solutions
He has worked as a Prosecutor and Magistrate in the Department of Justice system. He became an attorney in 2000 and started his practice soon after.
We handle personal injury claims of all sizes and level of complexity. We are able to deliver the best service every time thanks to our commitment and to our cooperation with highly specialised associates.
We can help you receive effective and beneficial solution for your legal problem regardless of its nature.
You can receive compensation
Our law firm has over five years of experience in personal injury claims. The team of Du Toit Attorneys has helped thousands of South Africans to receive justice and to get compensated for the injuries which they had incurred.
We work on various types of cases in our field of specialisation.
We are able to assist with road accident claims, train accident claims, medical negligence claims and many others. The compensation amounts vary from case to case, but we always aim for the maximum.
Compensation for medical expenses
Victims have the right to get compensated for medical expenses incurred by them, for lost income and benefits and for other damages such including physical and emotional ones.
We understand that victims and their family members have a great number of different concerns. That is why we offer comprehensive advice and support in such situations.
You can obtain more information on our website and when you visit our office to make a claim.
Du Toit Attorneys – Personal Injury Claim
Claim Type

Personal Injury Claims
Benefits of Du Toit Attorneys
---
Du Toit Attorneys - A powerful legal team
Du Toit Attorneys are a small yet powerful legal firm in South Africa. We have a team of professional and passionate attorneys who all have a deep understanding of the legal system.
We have dealt with a number of personal injury claims throughout the years, which have not always been easy ones. No matter how complicated or drawn out they may be, we always put our clients first and fight on their behalf s best we can.
Timeframe for claims
We know these cases can take years to conclude, and often our clients feel very despondent with the legal system due to these timeframes, but we will ensure you that an open communication through the process will be delivered between our firm and you as our clients.
Through many ups and downs, through long-term healing and emotional challenges, we have you in our corner, backing you up. We work on a contingency fee basis, so our clients do not have to worry about the financial aspect of their case until their case has been won, and you have been compensated for all your financial needs from the incident.
There are a number of areas within a personal injury case that we can focus on when it comes to our case. Clients can claim for pain and suffering, present and future medical treatments and/or surgeries, emotional trauma and treatment thereof, loss of income compensation should you not be able to carry on working because of injuries inflicted, or loss of days at work because of hospitalisation etc.
We will, however, assess and analyse your situation, go through the entire scenario with you, and inform you if you have a case to work with, and also inform you if you have a case at all. In many cases, we will need as much evidence as possible, which included police reports, medical reports, and photographs, to add to your case to make it stand in court. We will discuss everything with you once we have had our first consult with you. Call us today!
Du Toit Attorneys Contact
Contact Number
E-Mail
Website
Physical Address
252 Jean Ave, Die Hoewes

Centurion

Pretoria

0157

South Africa