Reliable legal solutions
Advanced strategies
Contingency fee litigation
In-page navigation
---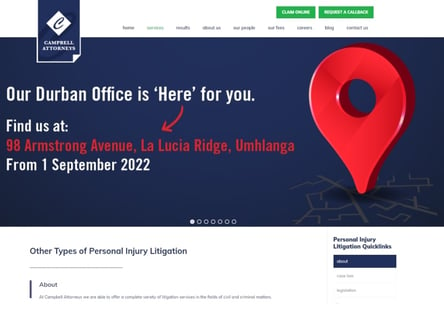 Author Campbell Attorneys. Screenshot of Campbell Attorneys website.


[Accessed March 31, 2023]
Campbell Attorneys - Reliable legal solutions
Finding workable solutions for our clients is the core goal of Campbell Attorneys. We are a dedicated and dynamic law firm offering personal attention and effective problem-solving.
We have offices in Durban and Pretoria, but we are able to serve people from all over South Africa. We have specialisation in personal injury claims and this enables us to deliver expert and fully committed service to our clients.
Professional assistance
We have departments for personal injury claims and medical malpractice claims. We can provide professional assistance with all types of claims under these categories. We have substantial experience in litigation as well as in negotiation and out of court settlement.
We provide complete litigation advice and services. We place special emphasis on contingency litigation. Our team is capable of handling even the most complex cases requiring the expertise of professionals from different fields. We work in close cooperation with medical professionals and other specialists to achieve top results for clients who apply for compensation.
A wide variety of services
As specialists in personal injury claims, we, at Campbell Attorneys, offer complete legal services to accident victims and their families. We handle a wide variety of claims from a road accident to medical malpractice ones.
We are able to assist individuals who have slipped, fallen and got injured and those who have been bitten by a dog. We have a team of experienced lawyers who use advanced strategies for negotiation and litigation. We work with a network of medical and other specialists to ensure that your medical negligence claim or personal injury claim is successful.
Our strategies are completely reliable and effective
You are welcome to make an appointment at which we can discuss your case. We will run an investigation to ensure that you have legal grounds for making a claim.
Once we take your case, we will prepare and initiate a claim and work towards earning the maximum possible personal injury compensation for you. Accident victims can get compensated for medical bills, lost income and their suffering.
Campbell Attorneys – Personal Injury Claim
Claim Type

Personal Injury Claims
Benefits of Campbell Attorneys
DOG Bite Claims
PERSONAL Injury Claims
ROAD Accident Fund Claims
---
Campbell Attorneys - A passion for helping you
Campbell Attorneys offer clients in South Africa legal services through a passionate and experienced team of attorneys, who really care about your wellbeing.
We know that life can hand you an unexplained and uncontrolled situation, where you may be involved in an incident that was not your fault. Whether you have sustained minor or major injuries from such an incident, we are here to cover your legal needs. We cover a broad spectrum of legal services including personal injury claims, medical malpractice claims and the private security industry.
Personal injury claims
Campbell Attorneys has a number of years in the legal industry, helping clients with personal injury cases, and in turn, claiming compensation for our clients that they well deserve. Some of the specialised areas we provide legal services for within personal injury cases include
RAF claim (Road Accident Fund claims), medical malpractice, train accident claims, dog bite claims, product liability claims, wrongful death and professional negligence claims. Our clients are encouraged to contact us as soon as possible, after their incident, and to include as much evidence pertaining to the injury as possible.
This can include photographs, medical and doctor reports, as well as a police report. These will all add to your case when putting everything together in order to get you the compensation you rightfully deserve.
Innocent victims of any kind of personal injury case, deserve the legal expertise of a legal firm that puts their clients first. Your best interest and your livelihood are what we good at fighting for! We work on a no win no fee basis, to ensure our clients that they need not have to pay up any costs until we have won their case, that's how confident we are about doing what's best for our clients.
For personal injury cases you are eligible to claim for:
Pain and suffering caused by the brutal incident
Loss of income claims, for the time you have been unable to work because of your injuries
In some cases culpable homicide
And a list of other reasons that may have occurred or caused you long-term areas of concern.
Speak to us today, let us establish what we can build your case on, and get the ball rolling as soon as possible.
Campbell Attorneys Contact
Contact Number
E-Mail
Website
Physical Address
58 St. Andrews Drive

Durban North

Durban

4051

South Africa
---
Postal Address
PO Box 30162, Sunnyside, Pretoria, 0132, South Africa
Opening Hours
Monday

08:00 – 16:30

Tuesday

08:00 – 16:30

Wednesday

08:00 – 16:30

Thursday

08:00 – 16:30

Friday

08:00 – 16:30

Saturday

– CLOSED

Sunday

– CLOSED