Extensive expertise
More than 70 professionals
Complete assistance
In-page navigation
---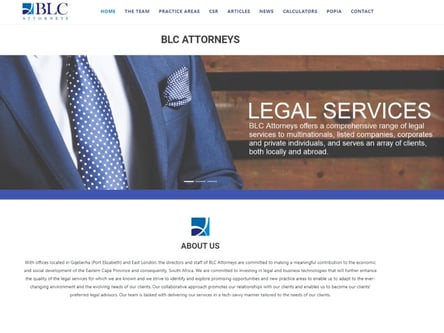 Author BLC Attorneys. Screenshot of BLC Attorneys website.


[Accessed March 31, 2023]
BLC Attorneys - efficient legal and business technologies
BLC Attorneys has a long history of excellence. Our legal firm was established in 1988. For over twenty years in the industry, it has grown to become one of the largest firms specialising in multiple areas of law in the Eastern Cape Province.
We use modern and efficient legal and business technologies to deliver legal services of the highest quality to the individuals and businesses who come to use for legal advice and assistance.
Our team includes more than 70 professionals
We have diverse backgrounds and different areas of specialisation. We are strong individually and even stronger together.
We are dedicated to meeting and exceeding the expectations of the people who we serve. We have a business culture based on integrity and respect.
For us, each of our clients is special and unique. We are committed to defending their interests in the most effective professional manner. We use our resources fully for achieving the best outcome for all personal injury claims.
We provide claims investigation and assessment
The field of personal injury claims is one of our main areas of speciality. At BLC Attorneys, we are dedicated to achieving the highest compensation for accident victims.
Our team includes attorneys and insurance recovery specialists who are highly experienced and successful in their respective fields. This enables us to provide a unique service based on extensive expertise to each and every person who has suffered injury as a result of the wrongful act of another party.
A wide range of legal services
We have a comprehensive range of flexible services which are designed to meet the varying needs of our clients. We provide claims investigation and assessment. We initiate personal injury claims including injury on duty and loss of support claims. We settle despites and institute litigation.
We develop effective litigation management strategies. We provide advice on all matters related to insurance. With us, you will receive the complete assistance which you require. The renowned specialists on our team provide professional training and conduct seminars.
BLC Attorneys – Personal Injury Claim
Claim Type

Personal Injury Claims
Benefits of BLC Attorneys
---
BLC Attorneys - We strive to get results
BLC Attorneys aim to be the best and preferred legal partner for clients throughout South Africa. We aim to deliver a personalised and professional service to all clients needing assistance from a legal team of experts.
We always keep a transparent way of working with our clients, keeping the communication channel open and honest, and always keeping our clients in the loop when it comes to their case. We strive to get results from whatever case we handle, and in particular, keeping the clients best interest at the top of our agenda. We extend our expertise to head and brain injury claims, slip and fall claims, road accident fund claims as well as personal injury claims.
Experts in the legal
We maintain a high level of social economic contribution to our country and our clients. We have a high success rate in winning our cases where clients are innocent victims of horrendous injuries sustained from personal injuries that could have been avoided.
If you have been involved in an accident or incident where you have sustained bodily and emotional trauma dues to violence, please contact our firm immediately to make a claim. Because these cases do have a long turnaround time, we want to get your case underway as soon as we can to avoid any delays in the finalisation of your compensation.
We are available either via email or telephone, so simply contact us and we will arrange a consultation with you. Let us take your case and alleviate the financial and emotional aspects through a decent and court approved personal injury compensation.
Innocent victims of such a tragedy can end up having to dig deep into their pockets when putting their lives back together after an incident like this. With our firm beside you along the way, the process will feel a lot easier knowing that someone with the legal experience has your back. Don't wait till it's too late to make your case a suitable one in court. Get in touch with us today, and we will take the matter further on your behalf.
BLC Attorneys Contact
Contact Number
E-Mail
Website
Physical Address
4 Cape Road

Newton Park

Port Elizabeth

6001

South Africa
---
Postal Address
PO Box 12328, Central, 6006, South Africa
Opening Hours
Monday

08:00 – 17:00

Tuesday

08:00 – 17:00

Wednesday

08:00 – 17:00

Thursday

08:00 – 17:00

Friday

08:00 – 17:00

Saturday

– CLOSED

Sunday

– CLOSED