Specialised client service
Highest possible compensation
'No win, no fee'
In-page navigation
---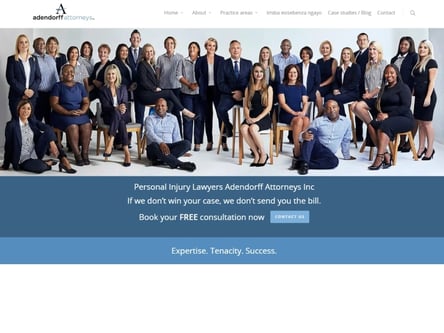 Author Adendorff Attorneys. Screenshot of Adendorff Attorneys website.


[Accessed March 31, 2023]
Adendorff Attorneys - Our law firm specialises in personal injury
At Adendorff Attorneys, we have a dedicated and hard-working team of lawyers who help South Africans to receive justice.
Our law firm specialises in personal injury claims and motor vehicle accident claims. We owe our success to our expertise, narrow specialisation and client service.
We build strong partnerships
We have won many cases in our area of specialisation being personal injury claims. We have earned high compensation awards for our clients. We are proud of the fact that we help not only local people but also visitors to the country who got injured as a result of an accident during their stay.
Our team of attorneys is supported by a network of specialists in other fields including medicine and business. This enables us to build solid cases for our clients and to achieve their goals.
Our service is designed to meet and exceed the highest standards of quality. We provide it at "no win - no fee" basis on all personal injury and assault claims.
You can rely on our knowledge and skills
If you are a victim of an accident and you experienced personal injury, we, at Adendorff Attorneys can help you to receive the compensation which you deserve for your suffering.
Once you present your case to us, we will investigate it to confirm that there are legal grounds for making a claim. Upon confirmation, we will prepare a personal injury claim, institute it and prosecute it. You can rely on our knowledge and skills.
The highest possible compensation
We will seek the highest possible compensation for your personal injury. Our goal is to recover all medical expenses associated with treatment and hospital stays and lost earnings and benefits.
We strive to ensure that our clients get compensated for their physical and emotional suffering as well.
We will use our negotiation skills and the collected evidence to get a fair settlement for you. If this does not happen, we will not hesitate to take your assault, brain injury or slip and fall claim to a court of law.
Adendorff Attorneys – Personal Injury Claim
Claim Type

Personal Injury Claims
Benefits of Adendorff Attorneys
PERSONAL Injury Claims
TRAIN Accidents
MEDICAL Negligence / Birth Injuries
SLIP And Fall Accidents
POLICE Unlawful Arrest / Detention & Assault
PRODUCT Liability / Defective Products
DOG Bites
BURN Injuries
SPINAL Cord Injuries
HEAD And Brain Injuries
---
Adendorff Attorneys - passion and integrity
Adendorff Attorneys have many years' experience in assisting clients throughout South Africa with their personal injury legal cases. Personal injury cases are very varied.
They come in a number of categories, including criminal injury claims, assault claims and dog bite claims. These injuries are sustained through bodily harm or intention to cause bodily harm to innocent people. Whatever your case may be, we will do what we can to help you get the compensation you deserve from a traumatic experience that could have been avoided.
We have practical experience in personal injury cases
Focused on battling for casualties of carelessness, James Adendorff established the firm in 2006. Today, our capable and ingenious group of legal advisors is as devoted as ever to guarantee that every customer's legal and personal matters are at the foreground of our services.
We take pride in conveying our legal benefits with compassion and trustworthiness and have, throughout the years, earned a great notoriety for legal achievements and securing a large number of remuneration packages for our customers.
The firm has practical experience in personal injury claims including assault claims and cases and holds a unique enthusiasm for individuals needing the assistance of a team of legal experts to help them with their cases.
Our motivation for helping clients is through passion and integrity. If you have been a victim of a personal injury incident, and you know that the incident could have been prevented or not have happened at all, contact our firm, and we will discuss the process of making a case on your behalf.
We take an ownership of our client's traumatic experience and put everything we have through experience and knowledge into making your case a winning one. Clients can claim for a number of things when it comes to personal injury claims.
Depending on the situation of the event, you can claim loss of income, pain and suffering and in some cases attempted murder charges can be placed on the culprit. Contact our firm via telephone or email, and we will set up a consult with you, to discuss how to make a claim, and also evaluate whether you have a case at all.
Adendorff Attorneys Contact
Contact Number
E-Mail
Website
Physical Address
2nd Floor Tyger Valley Chambers Three, 27 Willie van Schoor Drive (Durban Road)

Belville

Cape Town

7536

South Africa
---
Postal Address
PO Box 4034 Tyger Valley, Pretoria, 7536, South Africa