Dynamic and innovative
Friendly, relaxed atmosphere
Maksimum settlements
In-page navigation
---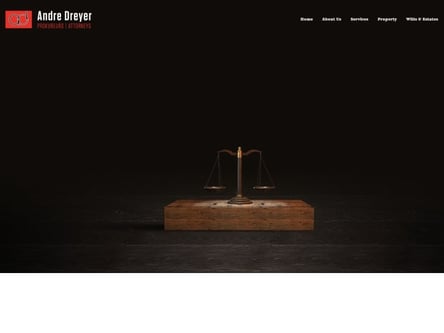 Author Andre Dreyer Attorneys. Screenshot of Andre Dreyer Attorneys website.


[Accessed March 31, 2023]
Andre Dreyer Attorneys - We resolve legal matters quickly
Andre Dreyer Attorneys is a dynamic firm focused on innovation in the practice of law. We are the official successor of Hannah Schoeman & Steyn.
We value the traditions of our predecessors which holds a history of excellence and an impeccable reputation in handling personal injury claims.
We are based in Vryheid, but we operate and provide professional legal services in Newcastle, Dundee, Pongola, Ulundi and Nqutu, KwaZulu Natal.
You will receive personal attention
We combine professional service based on substantial expertise in a friendly and relaxed working atmosphere.
Each one of our clients receives personal attention in every aspect of the dealings with us. We resolve legal matters timely and efficiently with our legal experts.
We specialize in property, estate and personal injury law. Andre Dreyer Attorneys give every case personal attention as we understand each client has individual needs.
We are experts in our field
Any person can get injured accidentally while crossing the street, doing grocery shopping or undergoing routine surgery.
At Andre Dreyer Attorneys, we assist the victims of accidents with obtaining personal injury compensation for the injuries suffered.
We offer full legal representation and assistance with all aspects of making the personal injury claim including obtaining the necessary medico-legal reports.
We have an excellent reputation
We take our service one step further. We pick up our clients from their homes and transport them to the major medical centres for obtaining the reports. Our aim is to win maximum compensation for each and every client whether we're working on a medical negligence claim or a public liability claim.
For this, we advise accident victims and their families to contact us without delay. The earlier we start working on a case, the higher the chances of a positive outcome will be.
We have an excellent reputation for being experts in our field. We are members of the Association of Personal Injury Lawyers and the South African Medico-Legal Society.
Andre Dreyer Attorneys – Personal Injury Claim
Claim Type

Personal Injury Claims
Benefits of Andre Dreyer Attorneys
MEDICAL Negligence Claims
PROPERTY Transactions
PERSONAL Injury Claims
WILLS & Estates
FAMILY Law
---
Andre Dreyer Prokureurs Attorneys - We strive to win maximum compensation
Accidents happened and can change the course of your life forever.
We assist the victims of accidents to claim for compensation for the injuries and damages incurred. Our attorneys will guide you through the entire claims process and keep you up to date every step of the way.
We go the extra mile
We go one step further by collecting our clients and transporting them to and from medical centres to obtain the necessary medical reports.
We strive to win maximum compensation for each of our clients. Therefore, we encourage victims of accidents to contact us right away to get the process underway. The personal injury claims process can take some time and the sooner we can compile all the relevant data, the sooner the claim can be submitted.
Andre Dreyer Attorneys understand the unpredictable things that happen in life. You could be involved in a brutal injury for no valid reason, and be seriously hurt in the process. A personal injury can occur in a number of ways that end up with innocent people being the ones paying for the damages done. With a team of expert attorneys located in Vryheid and Kwazulu-Natal, we have the scope, location and the capabilities to provide the legal services you need to fight your case.
As members of the Association of Personal Injury Lawyers (SAAPIL) and the South African Medico-Legal Society (SAMLS), Andre Dreyer Attorneys are qualified to take on your personal injury case be it a dog bite claim or an assault claim. We use our resources to assist us with specialists in the required fields to help us with specific information needed to build a strong case. Medical expenses can quickly pile up adding to the stress of this traumatic season. Don't delay and get the compensation you rightfully deserve.
Andre Dreyer Attorneys Contact
Contact Number
E-Mail
Website
Physical Address
9 Louwville St, Louwville

Belville

Cape Town

7380

South Africa