Legal and emotional support
Friendly and professional
Free consultation
In-page navigation
---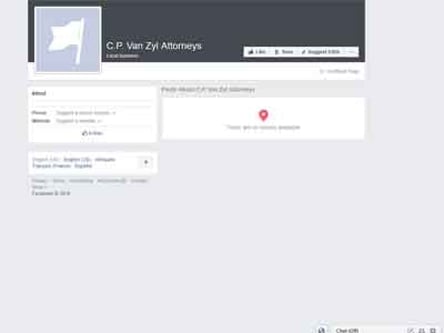 Author CP van Zyl Attorneys. Screenshot of CP van Zyl Attorneys website.


[Accessed April 5, 2023]
C.P. van Zyl Attorneys - Quality legal services
C.P. van Zyl Attorneys is a law firm based in Brooklyn, Pretoria.
His passion to help those who cannot afford quality attorneys and do not know the law led him to found the firm. Today, 99 % of the firm's clients are receiving a high quality of legal and medical expertise that would normally be out of their reach. The firm employs a 'no win, 'no pay'approach, whereby the firm aims to cover all financial costs of the product liability claim.
We are efficient
C.P. van Zyl Attorneys employs staff that have been selected for their empathy towards clients as well as their qualifications.
The firm is known for its efficient, friendly and professional services, aiming to form long-lived relationships with its clients. The tenet of C.P. van Zyl Attorneys is to empower those who feel helpless and to provide them with legal and emotional support.
We can help you claim
We at C.P. van Zyl Attorneys will be with you right from the start, guiding you and supporting you through the claims process.
This is why we have become known as being a leading South African law firm that delivers results for clients.
Claims against product liability
You should not have to devote all your spare time to figure out the complex procedures involved in proving a claim against product liability. That is why we at C.P. van Zyl Attorneys will take that burden on from you, freeing up your time to recover and move on with your life. The firms provide services on a 'no win, no fee' contingency, and a free first consultation, in order to determine the validity of your claim and help you initiate the process of making a claim.
CP van Zyl Attorneys – Product Liability Claim
Claim Type

Product Liability Claims
Benefits of CP van Zyl Attorneys
---
C.P. van Zyl Attorneys - we will advise you on how to move your claim further
If you have been the victim of an inferior or dangerous product contact us and arrange a consultation.
During this first meeting, we will evaluate the circumstances regarding your product liability claim to determine its viability. Following this, we will advise you on how to move your claim further.
We will do an investigation
This step will include an investigation into the extent of the damages suffered by you, getting hold of the necessary proof of your damages, negotiating a settlement with the negligent party.
Should it be necessary, we will also assist by issuing summons and taking legal action against the negligent person, to ensure that you receive the compensation you are entitled to. To protect you from the case that your claim is unsuccessful, the firm operates on a 'no win, no fee' basis.
Consult a legal advisor
If you want to avoid having to prove the claim yourself, then you should definitely consult with a legal advisor. Similarly, if the claim relates to a complex product defect such as a car engine defect or electronic malfunction, you will need to services of specialised technicians.
We are well connected to such people and will be able to offer the necessary technical advice and testimony. Your public liability claim will only be ruled valid if it can be proved that the defect in the product was a result of negligence on behalf of the manufacturer, retailer or supplier. Some defects in products can be very dangerous to individuals and should be reported as soon as possible, partly to strengthen the case, and also because the defect could be affecting other members of society too.
In some instances, the defective product will only be removed from the shelf after a Judge has ruled in favour of a claim against it, as large companies are often well versed in legal affairs and are able to aptly defend any claim.
It is for this reason that you should contact C.P Van Zyl Attorneys if you have to launch a claim against an inferior product or defective product. If the defect has also caused you injury, you can claim for the cost involved for the medical treatment too via a personal injury claim.
CP van Zyl Attorneys Contact
Contact Number
E-Mail
Website
Physical Address
903 Justice Mahomed Str

BROOKLYN

PRETORIA

South Africa