Ronald Bobroff & Partners
Leading since 1974
Product liability specialists
Creative and productive
In-page navigation
---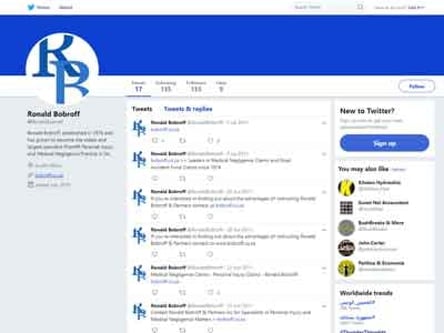 Author Ronald Bobroff & Partners. Screenshot of Ronald Bobroff & Partners website.


[Accessed April 5, 2023]
Ronald Bobroff & Partners Inc. - specialists in product liability law
Ronald Bobroff & Partners Inc. has been a leading firm in third-party medico-legal services since 1974. It is one of the largest law firms in South Africa specialised in product liability law.
The firm is conveniently located in Rosebank, central Johannesburg. The firm's founder, Ronald Bobroff, was President of the Law Society, is the current President of SAAPIL, and has served as chairman on numerous local and provincial law councils. He is also a guest lecturer at the University of the Witwatersrand Medical School.
Creative legal solutions
The Practice incorporates a significant number of the most innovative, creative and productive lawyers currently to be found in South Africa.
The Practice is complimented by a large and diverse team of medical and other specialists who assist in the formulation, assessment and quantification of product liability claims. Manufacturers and sellers of different products are legally obligated to ensure that their products will serve and are safe for their intended use.
We are expert negotiators and will assist you with your liability claim
Manufacturers and sellers of products are liable under The Consumer Protection Act (CPA) to adhere to certain standards and safety protocols to prevent harm coming to third parties who come into contact with such products.
We will help you get compensation
The onus is on the victim to prove negligence on the part of the manufacturer/distributor/seller if they wish to apply for compensation. It is commonly difficult for victims to process their own claims, not having the required knowledge or understanding of manufacturing and commercial processes or understanding the exact reason the product failed.
Ronald Bobroff & Partners have the skills and insight to initiate and facilitate the product liability claim process acquiring satisfactory compensation.
Ronald Bobroff & Partners – Product Liability Claim
Claim Type

Product Liability Claims
Benefits of Ronald Bobroff & Partners
---
Ronald Bobroff & Partners - We will validate your claim
If you have been harmed through interaction with any kind of product, you can contact Ronald Bobroff & Partners. The first step in claiming is evaluating your case and determining its validity.
This is carried out during your first free consultation with the firm. After that, your attorney will discuss how to move forward and to investigate your case, taking over the collection of relevant documents, testimonies and medical reports.
Product liability claims
If your public liability, product liability or personal injury claim is successfully lodged and proven, Ronald Bobroff & Partners can be trusted it secure you with appropriate compensation. Ensure that you have all the necessary details relating to the case, such as your receipt and medical record of any injury sustained. When pursuing a product liability claim, Ronald Bobroff & Partners are dedicated to providing high-quality legal services at affordable rates.
While winning a case is always on any attorneys' agenda, the firm is dedicated to upholding the values of ethical practice and fair treatment. Legal cases are very stressful events and take a toll on your mind and body, Ronald Bobroff & Partners understands this and commits wholeheartedly to their clients and their individual needs.
These cases are not easy to investigate as there are so many facets and legal intricacies to navigate. It is important to document anything that may be relevant to your product liability claim, the more information you can provide your attorney with, the stronger your case will become. Below is the actual declaration from the CPA:
Consumer Protection Act provides that every consumer has the right to receive goods:
That is reasonably suitable for the purposes for which they are generally intended;
Are of good quality;
Are in good working order;
Will be usable and durable for a reasonable period of time having regard to the use to which they would normally be put and to all the surrounding circumstances of their supply;
That complies with any applicable standards set under the Standards Act, 1993 (Act No. 29 of 1993) or any other public regulation;
That is warranted by the producer or importer, the distributor and the retailer to be reasonably suitable for the purpose specified by the consumer if the supplier has indicated this to be the case.
Ronald Bobroff & Partners Contact
Contact Number
E-Mail
Website
Physical Address
37 Ashford Road

Parkwood

Johannesburg

South Africa
---
Postal Address
P O Box 1170 Parklands, Johannesburg, 2121, South Africa