Best advice for 20+ years'
Successful resolutions
Dynamic and dedicated
In-page navigation
---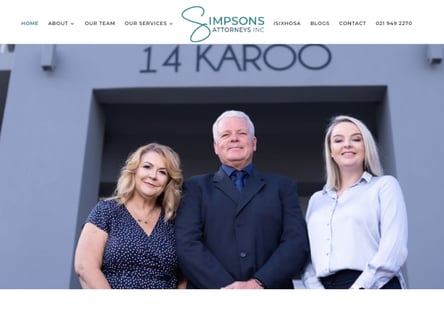 Author Simpson's Attorneys. Screenshot of Simpson's Attorneys website.


[Accessed April 3, 2023]
Simpsons Attorneys is dynamic and innovative
Simpsons Attorneys is a dynamic and innovative law firm specialised in product liability claims and personal injury law. The Cape Town based firm has been dedicated to providing its clients with the best service for over 20 years.
A passionate and dedicated team
Simpsons Attorneys comprises some of the most talented and passionate legal minds in the country who will guide you to a successful resolution. Following the tenet that money should not be a barrier to legal expertise in South Africa, the firm offers a 'no win, no fee' contingency.
Your first consultation with Simpsons Attorneys is free. During this consultation, your lawyer will help you to determine whether your claim has merit and to decide on the next stage of your case.
With you every step of the way
Manufacturers, distributors and sellers of products are required by law to make sure that their products meet certain standards and will not injure anyone when used for the intended purpose. Simpson's personal injury lawyers are experienced in product liability lawsuits.
We will fight for your rights
In order to successfully prove your claim, you will need to demonstrate a causal link between the defective goods and the injuries suffered. This is not an easy process, requiring the collection and collation of witness testimonies, medical reports, photographic evidence and affidavits as well following this up by lodging your claim with through the relevant authority and collecting compensation.
Simpsons Attorneys will be with you every step of the way, making sure your claim receives due process and you are appropriately compensated.
Simpson's Attorneys – Product Liability Claim
Claim Type

Product Liability Claims
Benefits of Simpson's Attorneys
MOTOR Vehicle Accidents
PRODUCT Liability
ASSAULT & Wrongful Arrest
PUBLIC Liability & Slip And Fall Cases
DOG Bite Cases
RAIL Accidents
MEDICAL Negligence
---
Contact Simpsons Attorneys for expert legal advice
If you have been harmed or injured through the use of a product, you may have the right to claim against the responsible party for product liability. An example of this would be burning your hand and face due to sparking of your electric kettle.
The first step is to contact us at Simpsons Attorneys to book your first free consultation we will determine whether you have a valid product liability claim or not. The next step is to go about proving your claim and negligence on the part of the manufacturer/distributor/seller.
Types of documents you will need:
Medical report describing your injuries from being burned, how long you won't be able to work for and you prognosis and future treatment.
Financial records for medical costs incurred due to the burns
A psychological report evaluating the trauma you're received by severe burns on your face
A report from an electrician/expert on the type of kettle that malfunctioned, stating what went wrong, whether it could have been prevented and whether anyone was negligent.
We at Simpsons Attorneys have the medico-legal and technological experience to take your personal injury claim to a successful conclusion. There are many other local and by-laws that have to be taken into account as well.
You can claim against product liability if you have encountered defective or damaged products or been injured by them. Because of these intricate legal aspects of product liability claims, it is in your best interest to contact Simpsons Attorneys as quickly as you can for expert legal advice.
Simpson's Attorneys Contact
Contact Number
E-Mail
Website
Physical Address
14 Karoo St, Kempenville

Bellville

Cape Town

7530

South Africa
Opening Hours
Monday

08:00 – 16:30

Tuesday

08:00 – 16:30

Wednesday

08:00 – 16:30

Thursday

08:00 – 16:30

Friday

08:00 – 16:30

Saturday

– CLOSED

Sunday

– CLOSED