Well established and respected
Leader in legal field
Commitment to solutions
In-page navigation
---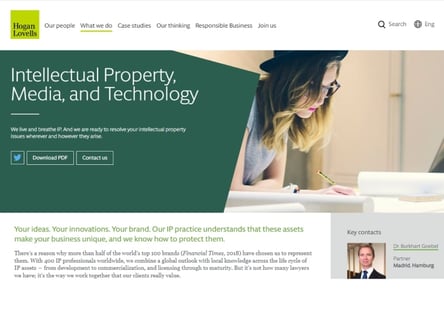 Author Hogan Lovells. Screenshot of Hogan Lovells website.


[Accessed April 3, 2023]
Hogan Lovells - A leader in the field
The South African branch of the international Hogan Lovell's law practice was established in Johannesburg, 1982.
The firm is one of the leading 'full services' legal practices in the country. Its international connections also enable the practice to operate on a global level.
Committed to quality legal solutions
Over the past decade, Hogan Lovell's has been involved in many of the world's high-profile product liability claims, acting on behalf of manufacturers from the consumer goods, automotive, electronics, food, aviation, tobacco, and life sciences industries.
Hogan and Lovell's is committed to finding their client's the best possible solutions, whatever the problem, wherever with South Africa's top legal experts.
Expert product liability claims
The attorneys at Hogan Lovells' product liability practice combine the legal, medical and scientific expertise with a profound understanding of the local economic environment.
Prevention is better than cure
Hogan Lovells combines 30 years' worth of international product liability compensation knowledge and practice, ensuring you receive the best possible legal services. Hogan Lovells has experience in all aspects of product liability along the production and supply chains from start to finish.
Their cover includes risk prevention, risk management, compliance with product safety regulations, labelling, product recalls, and the defence of unitary, cross-border and multiparty personal injury claims. Prevention is better than cure; at Hogan Lovells we specialise particularly in effective risk management, which is fundamental to avoiding civil and criminal liabilities.
Hogan Lovells – Product Liability Claim
Claim Type

Product Liability Claims
Benefits of Hogan Lovells
MEDICAL Negligence
PERSONAL Injury
PRODUCT Liability Claims
---
Hogan Lovells - We have a panel of legal and medical experts
When manufacturing and distributing products, such as food, electronics or cars, it is impossible to foresee every potential liability that arises as the result of trying to put a product out there in the world.
We at Hogan Lovell are there to guide and support your project from start to finish, making sure there are a few hiccups along the way as possible.
We will provide you with dignity and support
An exhaustive investigation into the origin of a product and of its supply chain may be required just to identify the fault, which may result in a product liability claim. Our panel of scientific and medical experts will aid the design, manufacturing and management processes, providing innovative solutions to unforeseen problems.
They will provide you with the dignity, support and personal legal services you deserve. Of course, you will need to be able to prove that the product was the cause of the injury before you make a claim. In order to do so, you will need the help of medical experts as well as individuals who can provide information and evidence in support of your claim.
We will gather the relevant information
Hogan & Lovell's Attorneys will gather the relevant evidence and testimony, as well as formulate the strongest argument for your case. Always keep the receipt of any product you buy, because it is the proof of purchase, and necessary in any product liability claim.
Most companies will keep a digital copy of your receipt, but you will have to be able to identify the purchase in some way for them to track it down. While your right to product liability claims is cemented on the Consumer Protection Act, you as the consumer are also bound by certain contractual obligations.
Your claim will only be ruled valid if you can prove that the injury you sustained was because of the defect in the product and that the defect could of and should have been avoided.
Hogan Lovells Contact
Contact Number
E-Mail
Website
Physical Address
140 West St, Sandown

Sandton

Johannesburg

2196

South Africa
---
Postal Address
P O Box 78333, Sandton, 2146, South Africa
Opening Hours
Monday

08:00 – 17:00

Tuesday

08:00 – 17:00

Wednesday

08:00 – 17:00

Thursday

08:00 – 17:00

Friday

08:00 – 17:00

Saturday

– CLOSED

Sunday

– CLOSED