Well established and respected
Professional and effective
Affordable 'no win, no fee'
In-page navigation
---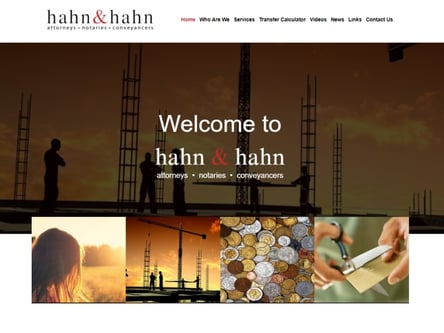 Author Hahn & Hahn. Screenshot of Hahn & Hahn website.


[Accessed April 3, 2023]
Hahn & Hahn Attorneys - quality legal services
Hahn & Hahn Attorneys is a well-established and respected legal practice located in Arcadia, Pretoria. With both Hahn's members of the Law Society, you are assured premium quality legal services and assistance with your claim.
Professional and honest
Hahn & Hahn aim to provide all their clients with professional, honest and effective legal expertise, forming long-lived relationships with them, so that they feel comfortable to return should the need arise.
The firm is specialised in dealing with product liability claims regarding product and food items and the Consumer Protection Act.
They have even, contributed to a Dummies Guide to the Consumer Protection Act. Fees are charged in accordance with the prescribed fees in terms of the Court Rules and Law Society.
We can help you with your product liability claim
The attorneys at Hahn & Hahn have been involved at every stage of the legislative process that gave rise to the Consumer Protection Ac (CPA). Hence, this firm will be able to provide its clients with the most informed and experienced expertise relating to food and product liability compensation.
Along with the CPA, Hahn & Hahn are also well versed in other Provincial and Local Authority Laws and Bye-Laws that deal with other aspects of the product supply chain that may affect consumers and producers alike.
Your first consultation is free
Hahn & Hahn Attorneys offer prospective clients a free first consultation to help you determine the validity of your claim. If you believe that your attorney should have a superior knowledge of consumer protection and product law and have a matter which requires legal assistance, then please contact us via the details below.
Hahn & Hahn – Product Liability Claim
Claim Type

Product Liability Claims
---
Hahn & Hahn Attorneys - You have the right to claim
Imagine you received extreme food poisoning from eating a product that was sealed and still before its use-by date. You have the right to claim back from the manufacturer for bodily injuries, medical expenses, and loss of earnings.
Hahn & Hahn Attorneys will help you determine your claim and advise you on how to move forward, gathering documents and medical reports for you. They will provide you with the dignity, support and personal services you deserve. Of course, you will need to be able to prove that the food was the cause of your illness.
In order to do so, you will need the testimony of medical experts as well as individuals who can provide information and evidence in support of your claim. Hahn & Hahn Attorneys can help you gather the relevant evidence and testimony, as well as formulate a strong argument for your case.
Keep this in mind
It is important to keep the receipt of any product you buy, as this is the proof of purchase, and necessary in any product liability claim. Most companies will keep a digital copy of your receipt, but you will have to be able to identify the purchase in some way.
The best way to find the receipt for your purchase, if you did not keep it, is to check your bank transaction history - if you paid by card. The next step is to contact the company with the time and date of the purchase, as well as the amount, this way the company can track the exact purchase and reprint the slip for you.
The proceeding of any legal case can be very stressful, especially when going up against large corporations, Hahn & Hahn Attorneys will accommodate your needs and provide you with a personal and informative service when you make a liability claim.
Hahn & Hahn Contact
Contact Number
E-Mail
Website
Physical Address
218 Richard St

Hatfield

Pretoria

0083

South Africa
---
Postal Address
P. O Box 55675 , Arcadia , 007 , South Africa
Opening Hours
Monday

07:30 – 16:30

Tuesday

07:30 – 16:30

Wednesday

07:30 – 16:30

Thursday

07:30 – 16:30

Friday

07:30 – 14:30

Saturday

08:00 – 13:00

Sunday

–