Experienced Medico-law/ firm
Professional and affordable
'No win, no fee'
In-page navigation
---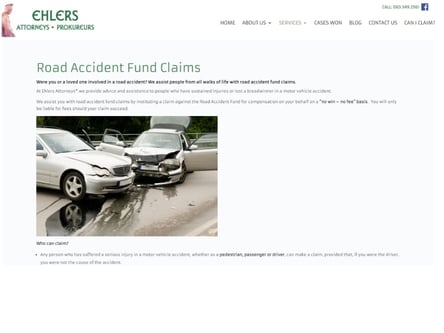 Author Ehlers Attorneys. Screenshot of Ehlers Attorneys website.


[Accessed March 30, 2023]
Ehlers Attorneys - Comprehensive legal advice
Ehlers Attorneys is a medico law firm with substantial experience in dealing with the Road Accident Fund. Over the years we have successfully settled countless Road Accident Fund claims for our clients.
At any moment you could be involved in a motor vehicle accident which could change your life forever.
In the event that you or a loved one have sustained serious injuries or lost a breadwinner as a result of a motor vehicle accident, we will assist you in lodging a claim for compensation against the Road Accident Fund.
The support and advice you need
At Ehlers Attorneys, we provide you and your family with comprehensive advice and support regarding the road accident fund or third party claims process.
You don't need to feel alone or lost during this time, Ehlers Attorneys are skilled and reliable. We work on a 'no-win no-fee' basis, in other words, you are only liable for fees should your claim be successful.
Effective RAF solutions
Ehlers Attorneys were started in June 2001 by Mr Giel Ehlers, who had excellent knowledge and reputation in dealing with criminal law matters.
Two years later they began assisting clients with Road Accident Fund claims. The firm now specialises in Road Accident Fund matters.
We are committed
In 2008 Mrs Tonya Ehlers joined Mr Ehlers in partnership. Almost a decade later the firm has grown significantly and continues to serve the people of South Africa under the leadership of Mrs Ehlers.
We are committed to assisting all South Africans in need of legal advice. At Ehlers Attorneys, we value honesty, integrity and professionalism, and our attorneys' practice this with every client interaction.
Our team is more than capable of offering you all the assistance you need. Ehlers Attorneys strive to offer professional and affordable service to all clients from across the country. To find out if you qualify for a personal injury claim, fill in our online assessment form and one of our staff members will contact you.
Ehlers Attorneys – RAF Claim
Benefits of Ehlers Attorneys
CLAIMS against the Road Accident Fund
DEBT Administration
---
How to Make a Claim with Ehlers Attorneys
We provide advice and assistance to people who have sustained injuries or lost a loved one and wish to make a motor vehicle accident claim. We assist you with road accident fund claims by lodging a claim against the Road Accident Fund for compensation on your behalf.
How it works
Step 1 Find out if you have a claim – use our online assessment form
Step 2 Meet with us
Step 3 Investigation of your road accident fund claim starts
Step 4 Your claim is lodged
Step 5 You receive your settlement and payment
Debt Assistance
Are you feeling overwhelmed with your debt situation, tired of endless phone calls and threats of legal action from your creditors? Debt Administration may be an appropriate way for you to get your debt under control.
Ehlers Attorneys Contact
Contact Number
E-Mail
Website
Physical Address
6 Migmatite Avenue (Cnr of Migmatite & Lenchen South), Zwartkop

Centurion

Gauteng

0157

South Africa
---
Postal Address
PO Box 383, Irene, 0062, South Africa
Opening Hours
Monday

08:00 – 16:30

Tuesday

08:00 – 16:30

Wednesday

08:00 – 16:30

Thursday

08:00 – 16:30

Friday

08:00 – 16:30

Saturday

– CLOSED

Sunday

– CLOSED