Dynamic and innovative
Reliable and efficient
Free first consultation
In-page navigation
---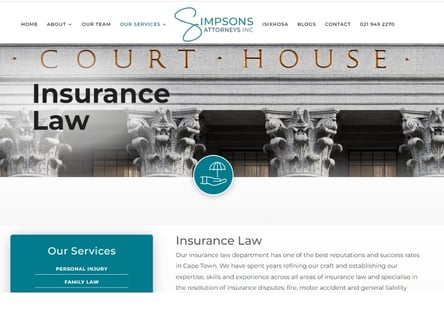 Author Simpsons Attorneys. Screenshot of Simpsons Attorneys website.


[Accessed March 30, 2023]
Simpsons Attorneys - Expert legal help
Simpsons Attorneys is a dynamic and innovative law firm specialising in personal injury and family law. The Cape Town-based firm has been dedicated to providing its clients with excellent service in Road Accident Fund Claims and personal injury law for over 20 years.
Willie Simpson, Founder of and Director at Simpsons Attorneys, previously served as Director at a large Bellville-based firm before starting his own practice in 1994. We have since grown significantly in popularity and we have built a solid reputation for always putting the interest of our customers at the heart of what we do.
Reliable legal services
Our team consists of some of the most talented and passionate legal experts in the country, and they have the heart to serve. We offer a free first consultation where a lawyer will determine the merit of your case and advise on next steps to take.
Our mission is to deliver reliable and efficient legal expertise service in the personal injury industry by creating a partnership with our clients and undertaking risk to reach mutually beneficial goals.
We will guide you
We offer our clients a no-win-no-fee service, meaning you only pay once your road accident fund claim has been successful.
Simpsons Attorneys has over 20 years of legal experience, settles on average 20 claims per month and has already awarded claims to the value of R51 million. We are equipped and ready to help you.
Personal injury claims
The firm follows pioneering legal models to ensure that every South African receives the top-quality legal advice and proper support.
We offer unsurpassed legal expertise in personal injury claims and Family Law. If you have suffered a personal injury due to the negligence of another person we can assist you. Our service goes beyond the facts of your case.
We are attorneys, but firstly people, and will always take your personal needs into account. We believe you are worth the fight and always do what we can to see justice. Speak to us today, and allow us to guide you in the right way.
Simpsons Attorneys – RAF Claim
Benefits of Simpsons Attorneys
MOTOR Vehicle Accidents
PRODUCT Liability
ASSAULT & Wrongful Arrest
PUBLIC Liability & Slip And Fall Cases
DOG Bite Cases
RAIL Accidents
MEDICAL Negligence
---
Simpsons Attorneys - You can get the compensation you deserve
Lodging a claim is not a simple process. It requires gathering and collating the personal details of all the parties involved in the accident as well as the documents necessary to prove your case.
These documents comprise medical reports and bills confirming your injuries arising from the incident, insurance details, police reports and relevant financial documents attesting to any monetary losses due to loss of support.
Legal documentation
These documents will be compiled into a statutory claim form, which will provide a detailed description of the accident and the circumstances under which it occurred. Altogether, the files constitute the proof of your claim, which you will then submit to the RAF in order to officially lodge the action. Once submitted, the RAF will open a case and begin examining your claim. You can expect the time from lodging your Road Accident Fund claim to receiving a result to take between 6 – 18 months.
Claiming for compensation
The RAF will take the evidence of your case into account and use it to determine the party chiefly responsible for the accident. They will also establish any other incidences of negligence that aggravated the damages caused by the incident. Ultimately, to prove a claim, you will need to show that the driver of the other vehicle was in negligent, such that had they behaved differently, the accident could otherwise have been avoided.
Evidently, claiming for compensation from the RAF can be a complex, lengthy and emotional process. Simpsons Attorneys will shoulder the burden of claiming for you. Their legal experts will ensure that your claim is processed successfully and efficiently, leaving you to recuperate in peace.
Simpsons Attorneys Contact
Contact Number
E-Mail
Website
Physical Address
14 Karoo Street, Kempenville

Bellville

Cape Town

7530

South Africa
Opening Hours
Monday

08:00 – 16:00

Tuesday

08:00 – 16:00

Wednesday

08:00 – 16:00

Thursday

08:00 – 16:00

Friday

08:00 – 16:00

Saturday

– CLOSED

Sunday

– CLOSED