Providing legal representation
Documentation supplied
Receive full compensation
In-page navigation
---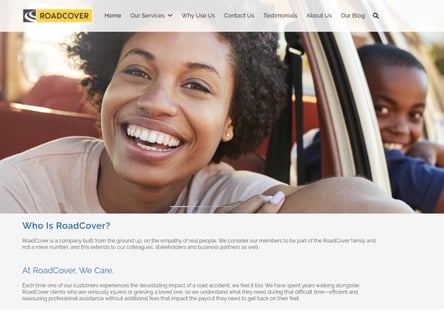 Author RoadCover. Screenshot of RoadCover website.


[Accessed March 30, 2023]
RoadCover - promoting road safety
RoadCover is a Johannesburg based company which guarantees its members full compensation from the Road Accident Fund.
The company provides legal services to its members, helping them to process their claim against the Road Accident Fund (RAF). RoadCover does not charge for administration and advising members throughout the road accident claims process.
The RAF act
The Road Accident Fund Act of 1996 says anyone using a road in South Africa is insured against injuries suffered at the hands of another driver; this includes both drivers and passengers.
The money for the RAF comes from fuel levies on petrol and diesel purchases. In order to be eligible to make a claim from the Road Accident Fund, we will validate your claim and launch an investigation on your behalf.
We cover the nation
Road accident claims are those that arise from injuries and damages associated with motor accidents. Road accident and personal injury claims are also known as third-party claims. The purpose of the Road Accident Fund is to cover all road users within South Africa.
Road Cover will provide its members with:
Legal representation
Administration and claims management
Accident reconstruction
Required medico-legal reports
Required actuarial reports
Past and future loss of earnings reports
Past and future loss of support claims reports
By providing claimants with the above, the Road Accident Fund claims processing time will be halved, and claimants will receive the full amount of compensation.
Benefits of RoadCover
Road Accident Fund Claims
---
RoadCover - Helping you claim
Any person that has been injured while using the roads in South Africa is entitled to make a third party claim.
This includes:
Pedestrians
Passengers
Driver
Cyclists/motorcyclists
Dependents who have lost income support
In order to claim, we recommend that you start, by seeing a DSC Attorney for a free consultation. Your attorney will help you determine the validity of your claim and establish the necessary documents required to prove it.
After all the relevant documents have been collected, they must be submitted to the RAF with a statutory claim form. The form provides the RAF with documentation of the date, location and time of the incident and the personal details of the parties involved.
A description of the accident and how it happened, along with witness testimonies must be included in the claim form. In order to corroborate your claim for compensation additional information such as medical fees, insurance details and police reports.
The RAF covers compensation for medical expenses and loss of support/earnings only. It does not cover material damage to your car or other possessions damaged in the accident. Know that there is an annual cap for compensation per annum of about R200 000.
Once your motor vehicle accident claim has been submitted to the RAF, an investigation regarding your claim will be opened. Through the information contained within your claim, the RAF will decide whether your claim is valid, who is at fault for the accident, and the degree of negligence of the individual parties concerned Ultimately, the RAF will determine whether you will be compensated and for how much.
Claiming against the RAF is a complicated and lengthy process. DSC attorneys will take the burden of your claim off your back. Your attorney will determine what needs to be done, in your individual case, to ensure a fruitful claim.
RoadCover Contact
Contact Number
E-Mail
Website
Physical Address
112, 4th Street

Sandton

Johannesburg

2024

South Africa
---
Postal Address
PO Box 411801, Craighall, 2024, South Africa