Michael de Broglio Attorneys
Exceptional, cost effective service
Experts in medico-law field
Highest possible claim
In-page navigation
---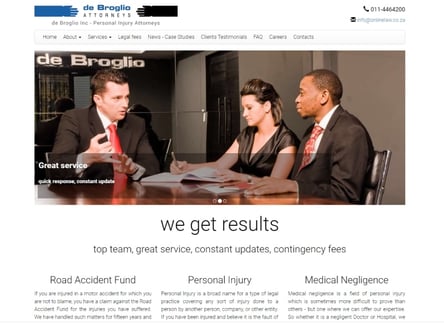 Author Michael de Broglio Attorneys. Screenshot of Michael de Broglio Attorneys website.


[Accessed March 30, 2023]
Michael de Broglio Attorneys - Cutting edge investigation techniques
De Broglio Attorneys is one of South Africa's finest law firms. The firm boasts an impressive professional team and has built a sturdy reputation for providing exceptional legal services.
De Broglio Attorneys offers cutting-edge methods of investigation with the support of technology which is advantages to their high personal injury claim success rate.
Cost-effective legal services
De Broglio Attorneys commits to offering professional and cost-effective legal services in personal injury matters and road accident claims. Our user-friendly website offers comprehensive information about the field of law, our claims process and various articles relating to the law which are written by our founder Michael de Broglio.
For many years Michael edited and largely wrote the Johannesburg Attorneys Association Newsletter relating to Road Accident Fund matters, thereafter changing it to his own newsletter. The newsletter gives attorneys helpful tips and advice on how to handle these complex matters.
Expert medical testimonies
Due to the intricate nature of the claim process thorough investigation need to be conducted.
Your case must first be assessed and handled by experts in the medico-law field to ensure that you have grounds on which to make a claim. As a client it's essential you are able to rely on your attorney for guidance and an in-depth analysis of your RAF claim.
You can get justice
Our team of attorneys works alongside trained medical experts to investigate and substantiate your claim. We will do our best to ensure justice for you. We will work hard to help you get the highest possible third party claim amount.
Our medical experts give expert testimonials to support your claim.
Michael de Broglio Attorneys – RAF Claim
Benefits of Michael de Broglio Attorneys
MOTOR Accidents
ROAD Accident Fund
MEDICAL Negligence
DIVORCE
---
Michael de Broglio Attorneys - Fighting for justice
The RAF compensates successful claimants for medical fees and loss of income suffered. If you have been injured in an accident on South African roads you may be able to claim for damages from the RAF.
Claiming from the RAF is a long process, taking up to 18 months until compensation is paid out. But, before that can take place, you will need to make a claim to lodge with the RAF in the first place. This is the toughest phase for clients as they have to relive their accidents in detail.
Legal documentation to support your case
De Broglio Attorneys are legal specialists in claiming from the RAF. We will consult with you on the circumstances of your accident and how to facilitate a successful compensation, giving you both emotional and legal support.
The process of bringing a road accident fund claim together requires litigation and administration that we will cover on your behalf, saving you the headache of doing it yourself. Your complete claim will comprise a certified description of the accident, and the details of the persons involved.
It will also include medical reports of your injuries suffered, a police report of the accident, insurance information, photographic evidence of the accident and damages caused, and proof of income lost.
All this will be handed over to the RAF who will consider the motor vehicle accident claim and its merits. Using the assistance of an attorney guarantees that your claim will be processed correctly and bear fruitful compensation.
Michael de Broglio Attorneys Contact
Contact Number
E-Mail
Website
Physical Address
127 Jan Smuts Avenue

Parkwood

Johannesburg

2196

South Africa
---
Postal Address
P.O. Box 2013, Parklands, 2121, South Africa
Opening Hours
Monday

08:30 – 17:00

Tuesday

08:30 – 17:00

Wednesday

08:30 – 17:00

Thursday

08:30 – 17:00

Friday

08:30 – 17:00

Saturday

– CLOSED

Sunday

– CLOSED