Multi-award winning company
Serving all sectors
'No win, no fee' claims
In-page navigation
---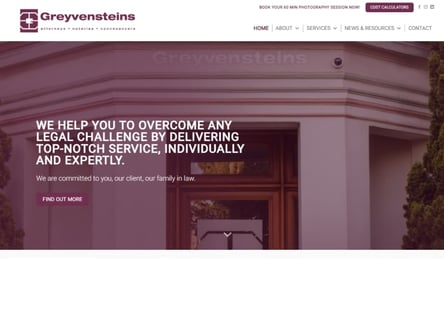 Author Greyvensteins Attorneys. Screenshot of Greyvensteins Attorneys website.


[Accessed March 30, 2023]
Greyvensteins Attorneys - We are dedicated
Greyvensteins Inc. is a leading law firm specializing in almost every aspect of South African law. We are committed to helping our clients meet today's challenges, providing thorough and effective legal services.
Our competitive edge is our ability to stay informed and remain agile in an ever-changing market economy, at the same time we provide high-quality legal services.
We have a proven track record
We are a contemporary law firm with our feet firmly planted on the ground. Despite our long-standing history, we govern our practice on traditional legal principles. Greyvensteins is a B-BBEE compliant firm serving a multitude of clients ranging from private to large corporations.
Service excellence is at the heart of what we do and our attorneys keep clients regularly informed on the progress of their Road Accident Fund claim. We take the time to explain to our clients in a clear manner the legal process.
A passion for helping you
We have won many PMR Diamond Awards, and the Phatshoane Henney Certificate of achievement for the law firm achieving the highest verified B-BBEE Score in 2012. Our legal experts are highly effective, well trained and passionate about what they do.
Quality legal and medical experts
The process of claiming from the Road Accident Fund (RAF) can be complicated, confusing and emotional, Greyvensteins Attorneys aims to guide its clients through the channels of making a claim, providing them with high quality legal and medical expertise.
Road accident claims are claims for injuries and damages occurring during an accident. These claims are also known as third-party claims. The purpose of the Road Accident Fund is to cover all road users in South Africa.
Claiming from RAF
According to the Road Accident Fund Act of 1996, one is insured against injuries suffered at the hands of another driver; this includes both drivers and passengers and pedestrians.
In order to be eligible to claim from the Road Accident Fund, an investigation must be launched to verify if the driver of the vehicle was negligent.
We have access to medical experts
Greyvensteins Attorneys have the knowledge of the legal channels and the experience required to determine the merits of a claimant's case, they can also direct clients to the right medical experts, and cover all the majority of the financial burden of cases.
The Greyvensteins Attorneys operates on a 'no, win, no fee' policy.
Once processed, if Greyvensteins Attorneys is satisfied with the offer from the RAF, they will be entitled to fee payment once the claim has been successfully finalised.
Greyvensteins Attorneys – RAF Claim
Benefits of Greyvensteins Attorneys
ROAD Accident Fund Claims
PROPERTY & Conveyancing
ESTATES
TRUSTS & Wills
LABOUR Law
LITIGATION
INSOLVENCY
LIQUIDATION & Rehabilitation
MATRIMONIAL Property & Antenuptial Contracts
DIVORCE Law & Family Law
TAX Law
ARBITRATION
INSURANCE Law
PROFESSIONAL Negligence / Medical Malpractice
---
Greyvensteins Attorneys - With you every step of the way
If you have been injured on the road within South Africa, you can claim for personal injury compensation from the RAF for medical and financial losses you suffered.
Lodging a request for compensation will entail consultation with an experienced attorney who can manage the litigation of your case with proficiency. Greyfensteins Attorneys offers potential claimants a free first consultation in which their claim will be evaluated and whether the action will go forward.
Legal documentation
If you proceed, you will need to collate documents into an official claims document to be submitted to the RAF.
These documents include an official report describing the accident and the conditions under which it took place, the personal details of the people involved, medical, insurance, financial, and police reports attesting to the details of the accident.
Your lawyer will make sure your road accident fund claim is complete and tendered to the RAF correctly, keeping you up-to-date every step of the way.
Greyvensteins Attorneys Contact
Contact Number
E-Mail
Website
Physical Address
7 Sunset Lane, Magaliessig Ext 4

Fourways

Johannesburg

2055

South Africa
Opening Hours
Monday

08:00 – 17:00

Tuesday

08:00 – 17:00

Wednesday

08:00 – 17:00

Thursday

08:00 – 17:00

Friday

08:00 – 17:00

Saturday

– CLOSED

Sunday

– CLOSED