Extensive experience
Full commitment to justice
Free consultation
In-page navigation
---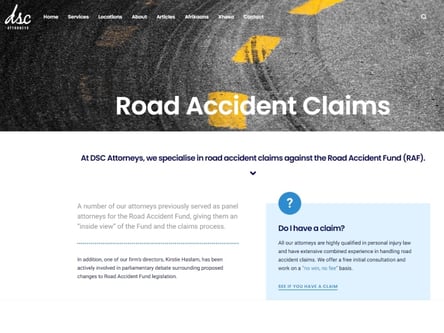 Author DSC Attorneys. Screenshot of DSC Attorneys website.


[Accessed March 30, 2023]
DCS Attorneys - A firm with a proven track record
DSC Attorneys is a committed personal injury law firm based in Cape Town, South Africa.
We fight to right the wrongs on behalf of our clients. The firm has a proven track record and is fully committed to ensuring justice for all clients when they apply for compensation for any personal injury.
Let a qualified Attorney help you
We will advise you regarding your potential Road Accident Fund claim and work on a no win no fee contingency which means we don't charge if you don't win.
Our attorneys are highly qualified in personal injury law and have widespread experience in handling these claims across South Africa. DSC Attorneys offers clients a free initial consultation and promise to only charge you if we win the case.
We will guide you
DSC Attorneys will guide you through the legalities of claiming, providing you with high quality legal and medical expertise along with efficient and professional service.
The firm aids to provide you, the prospective client, with the compassion, respect and dignity you deserve. In order to help you determine whether your motor vehicle accident claim is valid, they offer a free first consultation.
Expert advice
We aim to provide sound legal advice to all people of South Africa. Our attorneys are highly qualified and have extensive experience in personal injury claims. At the same time, our clients have direct access to our widespread panel of top medico-legal specialists and advocates.
We will assist you every step of the way and advise on whether or not to accept an early settlement if one is offered or will litigate your road accident fund claim to a final conclusion, if necessary. Once a fair settlement is reached or judgement has been obtained in your favour, we will recover the full extent of the damages due to you.
DSC Attorneys – RAF Claim
Benefits of DSC Attorneys
SLIP & Trip
ROAD Accident
AVIATION Accidents
DOG Bites
LIFT
GATE & Door Malfunction
MEDICAL Malpractice
TRAIN Accident Claims
POLICE Assaults
PRODUCT Liability
WRONGFUL Arrest
---
DSC Attorneys - Get rightful compensation
Anyone who has been injured while using South Africa's roads is eligible to claim from the RAF.
Initiating your claim for compensation will require the assistance of a lawyer with experience in claiming form the RAF, DSC Attorneys offers clients a free first consultation to discuss their claim and how it should be managed.
Claim for loss of income
The third party claim should comprise evidence of your injuries which resulted from the road accident in which you were involved (medical report), proof of medical expenses and any financial losses suffered.
A description of how the accident took place and photographic evidence of damages incurred will also be required.
The evidence then needs to be brought together to form your statutory road accident claim, which will then be submitted to the RAF for compensation.
Using a lawyer guarantees that your claim will contain all the right documents and will be processed correctly and efficiently.
DSC Attorneys Contact
Contact Number
E-Mail
Website
Physical Address
Touchstone House, 7 Bree Street, Cape Town City Centre

Cape Town

8000

South Africa
---
Postal Address
P.O. Box 1456, CAPETOWN, 8000, South Africa
Opening Hours
Monday

09:00 – 17:00

Tuesday

09:00 – 17:00

Wednesday

09:00 – 17:00

Thursday

09:00 – 17:00

Friday

09:00 – 17:00

Saturday

– CLOSED

Sunday

– CLOSED