Showing the best way forward
'No win, no fee' approach
Commercial and RAF claims
In-page navigation
---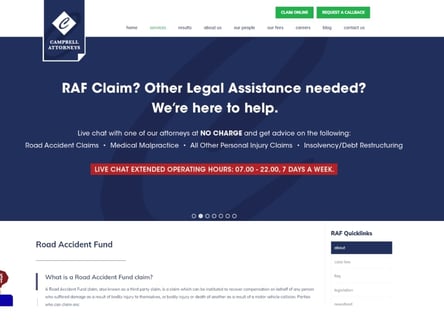 Author Campbell Attorneys. Screenshot of Campbell Attorneys website.


[Accessed March 30, 2023]
Campbell Attorneys - Expert advice when you need it
Campbell Attorneys is a highly respected law firm based in Durban North. We are dedicated, and we give our clients superior legal advice while advocating for a justified settlement.
We provide superior legal support, guidance and advice to our clients. At Campbell Attorneys, we treat each case with respect and we build long-lived relationships with our clients.
We will show you the best way forward
Founder Dave Campbell, started the firm in 2001 after been admitted as an attorney (B Comm, B Proc, LLM) after serving his article in a local firm.
Dave specializes in Court litigation in particular administrative law and commercial litigation, he regularly represents clients in the security sector.
The road accident fund claims process for a personal injury or others alike is complicated, confusing and overwhelming, this is why it's imperative you have the right people on your team to share light on the best way forward.
We will guide you through the claims process
Campbell Attorneys are equipped and experienced and will guide you every step of the way when you make a Road Accident Fund claim.
The firm believes strongly that everyone should have a right to access good legal service and have adopted a 'no win' 'no fee' policy for their clients, ensuring access to high-quality legal advice for all.
We work with a no win - no fee basis
What this means, Campbell Attorneys will cover all expenses incurring during the claims process including the costs of bringing witnesses to court as well as medico law experts.
Contact us today to start a claim and let us help you through this traumatic period. Our team of experts will be happy to help you, we are located in Durban, Pretoria and Johannesburg but clients can use our online platform to contact us from anywhere in South Africa.
Campbell Attorneys – RAF Claim
Benefits of Campbell Attorneys
Road Accident Fund Claims
---
Campbell Attorneys - We can help you with your RAF claim
Half a million people are injured on South Africa's road each year, with as many as 10 000 deaths resulting from negligence on the road.
Motor vehicle accident claims are claims for injuries and damages associated with motor accidents. Road accident and personal injury claims are also known as third-party claims.
The purpose of the Road Accident Fund is to cover all road users within South Africa for injuries resulting from motor vehicle accidents. According to the Road Accident Fund Act of 1996, one is insured against injuries suffered at the hands of another driver; this includes both drivers and passengers. In order to be eligible to claim from the Road Accident Fund, it must be proven that the driver of the other vehicle was in some way negligent.
Claiming from RAF
The process of claiming from the Road Accident Fund (RAF) can be complicated, Campbell Attorneys strives to guide our clients through the process of claiming. We will provide you with high quality legal and medical experts. The law is subject to change at any time; hence it is important to employ a legal team that is up to date with the latest laws in order to give you the best possible legal support.
In order to provide legal services to those who would not normally be able to afford high-quality legal aid, Campbell Attorneys operate on a 'no win, no pay' basis. The firm covers all the expenses incurred during the claims process, we will cover the cost for bringing witnesses to court and providing medico-legal expertise.
Contact us as soon as possible after you have been involved in any kind of road accident. The sooner we get started with your Road Accident Fund Claim, the quicker the outcome of your personal injury compensation. These cases can take some time to be finalised, however, we work as fast as we can on behalf of our clients. Contact us today, and let us help you get the compensation you deserve.
Campbell Attorneys Contact
Contact Number
E-Mail
Website
Physical Address
58 St. Andrews Drive

Durban North

Durban

4051

South Africa
---
Postal Address
PO Box 30162, Sunnyside, Pretoria, 132, South Africa
Opening Hours
Monday

08:00 – 16:30

Tuesday

08:00 – 16:30

Wednesday

08:00 – 16:30

Thursday

08:00 – 16:30

Friday

08:00 – 16:30

Saturday

– CLOSED

Sunday

– CLOSED