Brown, Braude & Vlok Attorneys
Tailored to your needs
Optimal legal conclusions
Providing guidance and support
In-page navigation
---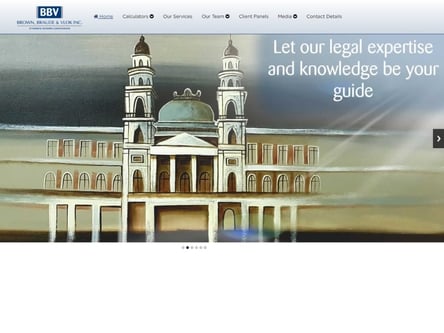 Author Brown, Braude & Vlok Attorneys. Screenshot of Brown, Braude & Vlok Attorneys website.


[Accessed March 30, 2023]
Brown, Braude & Vlok inc - Superior legal advice
Brown, Braude and Vlok Inc. (BBV) is a Port Elizabeth based law firm that was established in 1948.
BBV upholds the values of integrity, honesty and respect, and its principal goals are to provide premium legal advice and services and building lasting relationships with its clients.
A wide range of legal solutions
BBV has a wide range of legal specialists and support staff in order to provide services tailored to the client's needs. The combination of experience and diversity in the firm facilitates the development of innovative legal solutions.
From the beginning, right to the end, BBV keeps its clients updated with the progress of their road accident fund claim, simultaneously providing guidance and support in order to come to the best legal conclusion for the client.
With the necessary experience in medical negligence claims, BBV has become one of South Africa's leading law firms.
We always aim for a positive outcome
Due to the complexity of road accident claims, clients often find themselves confused and unsure of how the claims process works.
The firm specialises in medical negligence and malpractice claims as well as road accident fund claims and understands the needs for an intimate relationship with their client, always striving to ensure a desirable outcome for the claim.
You are entitled to claim
Often cases require a specialist medical opinion, especially relating to the defendants' injuries.
If it can be proven that you sustained injuries, due to the negligence of a medical practitioner, you are entitled to lay a claim against the practitioner. When making a claim of medical negligence or malpractice, you will need the advice and testimony of experts in the fields of medicine and law, Brown, Braude & Vlok can provide the necessary professionals for testifying in your case.
Brown, Braude & Vlok Attorneys – RAF Claim
Benefits of Brown, Braude & Vlok Attorneys
ROAD Accident Fund Claims
CIVIL Litigation
ESTATE Planning
CRIMINAL Law
CONVEYANCING & Property
COMMERCIAL Law
PERSONAL Injury Law
COLLECTIONS
FAMILY Law
LABOUR Law
INSOLVENCY & Liquidations
---
Brown, Braude & Vlok inc - Expert legal protection
When you have suffered an injury as a result of the negligence or malpractice by a medical professional, the initial shock often overrides all other faculties of your mind.
Initially your primary goal is to heal any injuries incurred, however, it is not always as easy as that. Road Accident Fund claims can be complicated and technical and the compensatory packages are only paid out after the case is finalised.
We will investigate your case
This means that if you are unable to pay for the medical treatment required to heal the injuries arising out of negligence, you will be unable to receive the necessary treatment until you have launched and concluded a claim.
For this reason that you must contact your legal team as soon as possible in order to avoid any lapse in evidence or unwanted delays in compensation. When contacting Gert Nel Inc. you will be directed to the medical negligence department who will assess your case and advise you on your best legal course of action.
When investigating your case, the firm will establish only the facts and relevant witness testimony, avoiding any possible corruption of the evidence. After consulting with the necessary medical experts, we will advise you on what to expect, what could be offered as compensation and how the claim will take to pay out. The beginning of your accident or personal injury claim must be confirmed by another medical professional.
The circumstances surrounding the reasons for a second opinion are considered by the medical practitioner and they may decide that the injuries are the result of negligence or malpractice. It is vital that you consult with experts in medico-law who can accurately assess all evidence involved. Brown, Braude and Vlok Inc. serve their clients with legal services of the highest quality and work tirelessly to ensure the best possible outcome for their clients.
Brown, Braude & Vlok Attorneys Contact
Contact Number
E-Mail
Website
Physical Address
317 Cape Road, Newton Park

Port Elizabeth

Eastern Cape

6001

South Africa
Opening Hours
Monday

08:00 – 16:30

Tuesday

08:00 – 16:30

Wednesday

08:00 – 16:30

Thursday

08:00 – 16:30

Friday

08:00 – 16:30

Saturday

– Closed

Sunday

– Closed