Legal protection
Up to date advice
No deposit
In-page navigation
---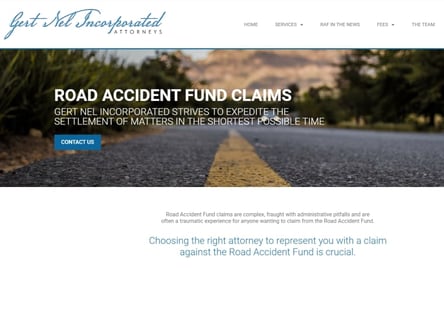 Author Gert Nel Attorneys. Screenshot of Gert Nel Attorneys website.


[Accessed March 30, 2023]
Gert Nel - We specialise in personal injury claims
Gert Nel Attorneys is a Pretoria based firm specialised in personal injury claims. The firm is committed to providing clients with a high standard of service aimed at reaching the best possible settlements while maintaining respect for and the dignity of the client.
By providing premium legal support and guidance, Gert Nel Attorneys form long-lasting relationships with their clients. An avid sportsman, the personal ambition of Gert Nel is to provide South Africa's cyclists with safe roads and legal protection in the case of road injuries.
Affordable legal help
In order to provide legal services to those who would not normally be able to afford high-quality legal aid, Gert Nel Attorneys operate on a 'no win, no fee' basis.
The firm covers all the expenses incurred during the Road Accident Fund claims process, including, bringing witnesses to court and providing medico-legal expertise. No deposit is required to finance a claim, so the client will not have to get a loan to initiate the process.
The best legal support
The process of claiming from the Road Accident Fund (RAF) can be complicated, confusing and traumatic.
Gert Nel Attorneys aims to guide their clients through the channels of making a claim, providing them with high quality legal and medical expertise.
The law is subject to change on a weekly basis; hence it is important to employ a legal that is up to date to get the best possible legal support.
We help South Africans nationwide
As the firm is based in Pretoria, it is aptly located to litigate from the Pretoria High Court, meaning that the firm is able to provide nationwide services with regard to road accident fund claims.
Gert Nel Attorneys is also prepared to send staff out to assist you, wherever in the country you may be.
Gert Nel Attorneys – RAF Claim
Benefits of Gert Nel Attorneys
RAF Claims
PUBLIC Liability Claims
DOG Bite Claims
MEDICAL Negligence
MEDICO Legal Recoveries
---
Gert Nel Attorneys - We will fight for your rights
Submitting a claim to the RAF is a complex process and can take up to 18 months to reach a resolution. Consulting an experienced attorney will go a long way to expediting the process and increase the likelihood of successful road accident compensation.
The RAF will only compensate you for medical and financial damages. It does not cover material damage, such as your car, which you will have to claim from your insurance.
Get your documents ready
Gert Nel Attorneys will assist you in collecting the right documents to prove and complete your motor vehicle accident claim. In most cases, this will require medical reports of your injuries, financial proof of earnings lost, medical bills, photographic evidence of the accident site and the resultant damages, and an official description of the accident.
If you were somehow complicit in your own accident, e.g. talking on your cell phone or texting, this negligence will reduce the value of your compensation. Once your third-party claim has been lodged with the RAF, an investigation will be launched.
Gert Nel Attorneys Contact
Contact Number
E-Mail
Website
Physical Address
1235 Cobham Road

Queenswood

Pretoria

0186

South Africa
---
Postal Address
PO Box 11614, Queenswood, 121, South Africa
Opening Hours
Monday

08:00 – 16:30

Tuesday

08:00 – 16:30

Wednesday

08:00 – 16:30

Thursday

08:00 – 16:30

Friday

08:00 – 16:30

Saturday

– CLOSED

Sunday

– CLOSED