Paul du Plessis Attorneys
Quality legal services
Personal approach
No-obligation, free consultation
In-page navigation
---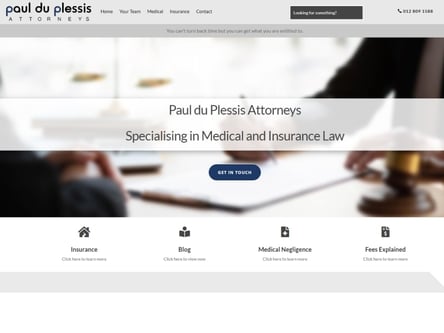 Author Paul du Plessis Attorneys. Screenshot of Paul du Plessis Attorneys website.


[Accessed March 30, 2023]
Paul du Plessis Attorneys - Quality legal services
Paul du Plessis Attorneys offers specialized medical-legal services to clients who have suffered an injury at the hands of another. Our personal approach sets us apart because as attorneys we too are parents and people.
We combine personal care and experience. Our in-depth legal and medical knowledge ensures your personal injury claim is destined for success. Our team is professional and determined. We understand the value of life and your passion to secure your future. We treat every client with respect and help you recover both physically and financially.
We will investigate your case
Most importantly, Paul du Plessis Attorneys has the experience and knowledge to make sure your case gets properly investigated.
We put time into your road accident claim to ensure you have the best possible prospects of success. The firm supports clients with legal aid across South Africa and manages claims in all jurisdictions.
Get a free consultation
We understand the financial stresses due to excessive medical expenses or losing income. Speak to us for a no-obligation free consultation regarding your loss of income claim.
We will examine your situation and advise you on the way forward. Supposing evidence provided proves to be a no case or poor case with no success, our attorneys will carry the costs, and close the file.
We will explain all processes
In the event of a strong case and you wish to proceed with a claim, our team will explain options to you.
As our client, you have the option of entering into a contingency fee agreement which is regulated by law to protect you. To determine whether your motor vehicle accident claim has merit, we investigate a prospective claim at our own expense.
We are transparent
All expenses relating to the claim including investigation, medical assessments, travelling and accommodation arrangements and expenses are covered by us.
These costs are recovered from the capital (lump sum) award received at the end of the case. Paul du Plessis Attorneys has an open file policy, giving you the liberty to follow up on the progress of your case, and any of our lawyers will be able to assist.
We will fight for your rights
Take note, the wheels of justice do turn slowly and often you may wonder about the progress of your Road Accident Fund claim, but rest assured our team of experts are fighting for justice on your behalf.
We assist our clients on a 'no win-no fee' basis (Contingency Fee) meaning that you only pay once your case is finalized. You have the assurance that the fees that we charge are above board which has to be in line with the Contingency Fees Act. In the event of children being involved, these fees are checked by our courts, Taxing Masters of the High Courts and Trustees.
Paul du Plessis Attorneys – RAF Claim
Benefits of Paul du Plessis Attorneys
PERSONAL Injury Claims
ROAD Accident Fund (RAF) Claims
---
Paul du Plessis - We get results
Part of your successful head or brain injury claim will be a contribution to your legal costs by the responsible party, which grants you the best chance to rebuild your life with as much financial reimbursement as possible.
Brain injuries from mva's
A birth-related brain injury can be caused by oxygen deprivation, poor monitoring, drug negligence during pregnancy or delivery, failing to perform a timely caesarean section (C-section), the use of excessive force during delivery, dropping an infant, and other trauma to the head which will affect the brain.
Cerebral Palsy (CP) is used as an umbrella term to describe a group of non-progressive, non-contagious conditions that cause physical disability in human development.
Damages to the motor control centres of the young developing brain can lead to CP and can occur during pregnancy. Cerebral refers to the affected area of the brain, and Palsy talks about the disorder of movement.
Brain damage in premature babies - babies may suffer damage to the white matter of their brains at childbirth. This type of brain damage is called Periventricular Leukomalacia (PVL). Some premature babies need mechanical ventilation to assist with their breathing, but the gas levels in their blood should be closely monitored.
The levels of oxygen and carbon dioxide are particularly important for the health of the baby's brain. Medical research shows that if the pressure of carbon dioxide in the blood remains too low (called Hypocarbia) for an excessive period, this may result in white matter brain damage.
Premature babies are extremely fragile and their condition can change rapidly. Fortunately, nursing and pediatric standards of care have developed to the point that expected levels of monitoring and care can significantly reduce the risk of severe harm.
Special interest and specialization
Paul's special area of interest is children who have suffered severe injuries, specializing in birth injuries and the care of babies and children.
We have had many exceptional medical negligence claim results on behalf of children who have lost their sight and suffered brain damage at the hand of negligence one way or another. He has extensively researched the topics to become a leading specialist in these complex claims.
Our success stories
Your success is our focus and it shows in the passion of our work. Exceptional settlements are our speciality and we are proud to have achieved groundbreaking settlements in South African law.
Our recent awards include:
Leg Amputation – R7.1 million
Loss of Support – R2 million
Brain damage and partial blindness– numerous settlements including an R65 million settlement for twins
Cerebral palsy – R19 million
Blindness– R15.8 million
To enable you to live your best life, we focus on getting you the maximum road accident fund compensation you deserve. For more information, contact our office today and allow our professional team to lead you out of the dark.
Paul du Plessis Attorneys Contact
Contact Number
E-Mail
Website
Physical Address
Unit 29 / Lombardy Business Park, Graham Road corner Cole Road, Silverlakes Rd

Pretoria

Gauteng

0084

South Africa
Opening Hours
Monday

07:30 – 13:00

Tuesday

07:30 – 13:00

Wednesday

07:30 – 13:00

Thursday

07:30 – 13:00

Friday

07:30 – 13:00

Saturday

– CLOSED

Sunday

– CLOSED