Complete legal service
Always aim for excellence
Adequate compensation
In-page navigation
---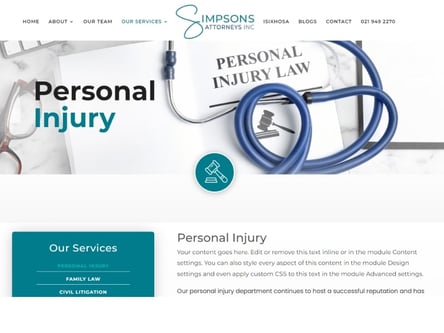 Author Simpson's Attorneys. Screenshot of Simpson's Attorneys website.


[Accessed March 30, 2023]
Simpsons Attorneys - We are committed to excellence and growth
For more than 20 years, Simpsons Attorneys has been offering professional legal assistance with personal injury claims with great success.
We have helped many people in the Cape Town area where we operate. We have a solid reputation for our expertise and achievement in slip and fall claims and other personal injury matters.
Claims for personal injury
We specialise in personal injury resulting from medical negligence, vehicle accidents and public and product liability claims. We handle general litigation cases as well. We have expanded our service range to include debt collection and we currently work with some of the largest lenders in South Africa. We offer advice on various family law matters as well. At present, our team includes three litigation attorneys, three candidate attorneys and professionals in other fields outside of the law.
If you are seeking legal advice and assistance, we will provide the services which you require with dedication and passion and lead you to a successful outcome.
We provide complete legal assistance for our clients
Getting injured because of slipping and falling in a public place is not uncommon nowadays and a public liability claim can be made in such an instance.
If you are the victim of such an accident, we, at Simpsons Attorneys, can help you to obtain compensation for your suffering.
We give you the best chance of getting your claim
All private and governmental organisations that keep premises open to the public have public liability insurance which is designed to pay compensation in the case of slip and fall claims and claims for other types of accidents leading to injury.
If you have got injured due to a hazard, negligence or breach of duty, we will provide complete legal assistance to you and give you the best chances of obtaining compensation of an adequate size. We offer a free initial consultation to each and every South African who comes to us. We provide our legal services on the no-win no-fee basis. If we do not achieve the set goal, you will not have to pay anything.
Simpson's Attorneys – Slip & Fall Claim
Claim Type

Slip & Fall Claims
Benefits of Simpson's Attorneys
MOTOR Vehicle Accidents
PRODUCT Liability
ASSAULT & Wrongful Arrest
PUBLIC Liability & Slip And Fall Cases
DOG Bite Cases
RAIL Accidents
MEDICAL Negligence
---
Simpsons Attorneys have over 2 decades of experience in the legal industry
We have assisted thousands of South African clients with their personal injury claims, earning them enough compensation to cover their medical bills as well as bills for long-term recovery.
Your pain and suffering endured from a slip and fall, in an area which could have been prevented, should not go unnoticed. This is a legal matter that we can assist you with, should it not be your fault.
Slip and fall claims
A slip and fall injury can leave a person seriously injured, with the need for physiotherapy, surgery and worse and you are entitled to make a claim.
Slip and fall accidents tend to occur in shopping centres and department stores. These are public spaces and as such the owners of such premises are legally charged to ensure public safety within their premises. Personal injuries in such areas generally arise from inefficient maintenance and cleaning routines. E.g. the shopping aisles are not checked regularly enough for spills.
What can you claim for?
Medical bills and treatment
Loss of support/income
Simpsons Attorneys is a firm experienced in dealing with slip and fall claims and will provide the guidance and support you need to claim against the responsible party. During your first meeting, you will acquaint your attorney with an account of your accident and the conditions that led to it. In turn, your attorney will determine the merits of your claim and whether it will bear fruitful results. If you proceed with your slip and fall claim you will need to collect supporting documents proving negligence against the defendant.
In order to claim successfully you (and your attorney) will need to show:
The fault/negligence of the responsible party
The conditions under which the accident took place
Proof of medical fees and the injuries you suffered due to the accident
Any financial losses you suffered as a direct result of the accident
If you have endured such an injury, and you know the injury could have been prevented by the third party, contact our firm today. Our team of legal experts is qualified to take on your case and get you the compensation you deserve.
Simpson's Attorneys Contact
Contact Number
E-Mail
Website
Physical Address
14 Karoo Street, Kempenville

Belville

Cape Town

7530

South Africa
Opening Hours
Monday

08:00 – 16:30

Tuesday

08:00 – 16:30

Wednesday

08:00 – 16:30

Thursday

08:00 – 16:30

Friday

08:00 – 16:30

Saturday

– CLOSED

Sunday

– CLOSED