1000 Dedicated professionals
Thorough investigations
Only victims, no defendants
In-page navigation
---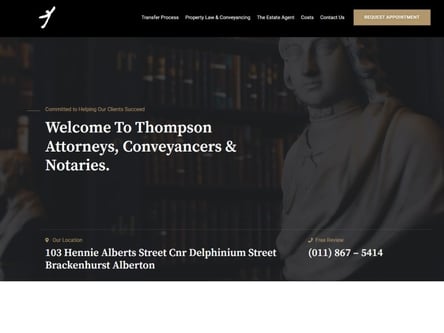 Author Thompsons Solicitors. Screenshot of Thompsons Solicitors website.


[Accessed March 30, 2023]
Thompsons Solicitors - We follow the highest legal standards
Thompsons Solicitors is a law firm specialising in personal injury law. Our areas of expertise include slip and fall claims, road accident claims, workplace accident claims and asbestos-related claims.
Our team consists of more than 1,000 dedicated professionals who use their expert knowledge and skills to help people who have suffered injury due to an accident resulting from the wrongful act of another party.
We are committed and hardworking
We are committed to providing legal services which meet the highest standards set both locally and internationally to achieve the best outcomes for the people who come to us and seek justice. Over the years, we have won many big and complex cases resulting in high slip and fall compensations for our clients. We have a long track record of success.
One of the things which make us special is that we work solely with accident victims. We never work with defendants. You can rely completely on our integrity and professional conduct.
We specialise in fall and slip claims
Accidents happen every day and people get injured. In cases when the accident is a result of the wrongful act of a person or organisation, the victims can seek compensation.
The job of Thompsons Solicitors is to prepare and support compensation claims. We specialise in fall and slip claims which are the most common of all.
We have extensive experience
The laws which are designed to protect the victims of such accidents are strict and very precise. That is why we advise people who have suffered injury due to slipping and falling on the premises of another party to contact us for a consultation.
When you come to us and tell us about the accident, we will run a thorough investigation to determine whether you are eligible for slip and fall compensation.
If you are, we will prepare your case in the best possible way and use our extensive experience and expertise to win the appropriate compensation for you.
Thompsons Solicitors – Slip & Fall Claim
Claim Type

Slip & Fall Claims
Benefits of Thompsons Solicitors
---
Thompsons Solicitors specialized in personal injury claims
Thompsons Solicitors specialised in personal injury claims, as well as the most common incidents being a slip and falls.
Clients who have been a victim of an injury caused by a slip and fall, are advised to be in contact with our experienced legal team as soon as possible. The sooner we get all the information and details from you, the better chances we have of forming a winning case on your behalf.
Validating your claim
Thompsons Solicitors is well equipped to manage your claim, with years of experience in personal injury cases. Your lawyer will help you determine the validity of your claim and whether pursuing action will result in the desired result or compensation.
In order to prove your slip and fall claim has to merit you will need to show that you were injured as a result of the negligence of the owner. This is not as simple as it sounds and will require the collation of documents such as; photos of where the accident took place, witness statements, medical and financial records.
Typical causes of slip and fall accidents:
Failure to mop of slippery spills
Leaving pooling water undrained
Failure to delimit unsafe areas
Obstructions left out in walkways
Poor lighting/visibility
Failure to maintain the road/pavement surface
Failure to put in secure railings
A public liability claim
Your lawyer at Thompsons Solicitors will ensure your public liability claim is correctly compiled and submitted to facilitate a smooth and efficient compensation.
We have helped a large number of clients in the same situation as you. Some with minor injuries and others with long-term injuries that have affected their livelihood. This kind of incident not only affects you as an injured leg or neck, but the emotional trauma you experience can be devastating. Notify our team as quickly as you can after the incident. Provide us with as much detail as you can while it is still fresh in your mind so that we can analyse the situation and take you forward to the next steps of making a claim.
You shouldn't have to suffer the emotional trauma as well as the expenses due to an accident that wasn't your fault. Let us fight your fight with you, and get you the compensation you deserve from this traumatic event.
Thompsons Solicitors Contact
Contact Number
E-Mail
Website
Physical Address
103 Hennie Alberts St

Brackenhurst

Alberton

1448

South Africa
Opening Hours
Monday

08:00 – 16:00

Tuesday

08:00 – 16:00

Wednesday

08:00 – 16:00

Thursday

08:00 – 16:00

Friday

08:00 – 16:00

Saturday

– Closed

Sunday

– Closed