Cyster Olsen Borchards Attorneys
Professional, efficient services
Well established legal firm
Treat clients with respect
In-page navigation
---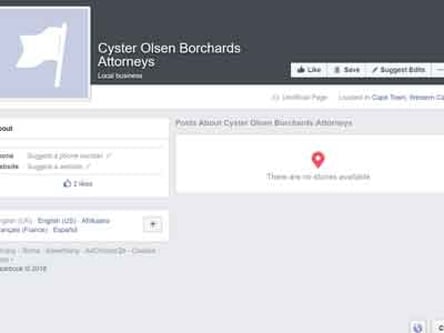 Author Cyster Olsen Borchards Attorneys. Screenshot of Cyster Olsen Borchards Attorneys website.


[Accessed April 5, 2023]
Cyster Olsen and Borchard Attorneys - Quality legal services
Cyster Olsen and Borchard Attorneys is a well-established firm located in Kuilsriver, South Africa.
The firm is has a reputation for professional, efficient and innovative legal services. If you have been injured by slipping and falling in a public space then Cyster Olsen Borchard will assist you in carrying out your claim against the responsible party.
We are committed to you
We operate on the belief that everyone is entitled to access to quality legal services. We treat our clients with empathy and respect. The attorneys at Cyster Olsen Borchard are committed to doing all they can to make sure their clients receive the slip and fall compensation they deserve.
We have seen the effects of these cases, and the added medical bills, physiotherapy, as well as the emotional traumas which are caused by these kinds of falls.
We are will you until the end
Imagine you are walking through your office building, on your way to your desk and you slip and trip on the floor.
You wake up to find you have hurt broken your wrist and sustained a cut on the back of your head. You leave work and go to get treated at the hospital. In the end, it turns out you have a serious concussion and your wrist will require surgery and physical therapy to fix. In such a case you may be able to make a head injury claim or bring public liability case against the responsible parties.
Get the compensation you deserve
You spend several days in hospital and two weeks off work, followed by 8 weeks of physiotherapy for your wrist. If you slipped on spilt water or cleaning supplies left in the walkway (for example), then the accident is the fault of the building manager or cleaner.
Cyster Olsen Borchard will help you claim back for personal injury compensation from the responsible party. The firm will investigate the circumstances of the accident and collate the required medical and technical reports on your behalf.
This will take the emotional and stressful burden of claiming off your shoulders, leaving you to focus on recovering. With you to the end, Cyster Olsen Borchard will ensure you receive the compensation you deserve.
Cyster Olsen Borchards Attorneys – Slip & Fall Claim
Claim Type

Slip & Fall Claims
Benefits of Cyster Olsen Borchards Attorneys
BICYCLE Accident
CATASTROPHIC Injuries
ACCIDENTS
INDUSTRIAL Injuries
PERSONAL Injury
SLIP And Fall
SPINAL Cord Injury
WRONGFUL Death
---
Cyster Olsen and Borchard Attorneys - You can win a case and cover medical bills
Cyster Olsen and Borchard Attorneys have throughout our time in practice, dealing with thousands of legal cases that include slip and fall injuries. Accidents happen, and it is just unfortunate that anyone could get injured in places where they never imagined.
A simple shopping trip to the grocery store could leave you with a broken leg, or injured neck, from slipping on a wet floor. This is life's reality, but if this incident wasn't your fault, you can make a slip and fall claim for compensation for the damages incurred.
Claim against the responsible party
Owners/managers of public spaces such as shopping centres are obligated by law to make sure their premises are safe and well maintained to make it safe for the public to use. However, as the injured party, the responsibility is on you to pursue a public liability claim against the responsible party.
Damages you can claim for are; past and future medical expenses, past and future loss of earnings, general damages. Claiming for compensation careful investigation and evidence. Cyster Olsen Borchard your case will be taken over and investigated on your behalf. The firm will collate all the necessary documents and navigate the confusing legal channels so you don't have to.
Contact us immediately after the incident
We advise our clients to contact us as soon as possible after the incident has occurred. If you know that there weren't any signs visible to you when you endured the fall, and you know that you are the innocent party, contact us immediately. We will need as much information to support your case, including a doctor or medical reports to build a case for you.
It is uncertain to determine how long these cases can take, however, we always strive to get them going smoothly from the very beginning, having all the information we need from day one. Don't waste time when you can win a case and cover all those medical bills and more for your pain and suffering.
Cyster Olsen Borchards Attorneys Contact
Contact Number
E-Mail
Website
Physical Address
105 Ipic Center

Soneike

Kuilsriver

7570

South Africa