Mohapi J Sepeesa Attorneys
10 Years' legal experience
Solid reputation
Friendly, professional services
In-page navigation
---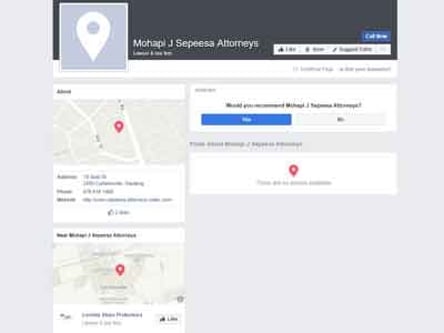 Author Mohapi J Sepeesa Attorneys. Screenshot of Mohapi J Sepeesa Attorneys website.


[Accessed April 5, 2023]
Mohapi J Sepeesa Attorneys - We are the top choice for personal injury claims
For professional legal representation, Mohapi J Sepeesa Attorneys is a top choice for individuals and businesses in Carletonville and the local area.
The firm was founded and is currently let by Mohapi J Sepeesa who has over ten years of experience in the field of law. Mr Sepeesa has received higher education in top universities including North-West University and the University of Madras.
We combine our skills and experience
Our team consists of young and energetic attorneys who combine their skills and experience to produce the best outcome for clients. We have a solid reputation in our field and many satisfied clients who have successfully received slip and fall compensation.
We strive to build close relationships with all individuals and organisations who seek our professional assistance. We have a clear idea of our capabilities and potential.
That is why we handle bigger and more complex public liability claim in cooperation with other law firms. This enables us to deliver services of even higher quality to the people who give us their trust.
We will build your case based on solid evidence
Our law firm provides a comprehensive set of legal services to individuals and businesses.
At Mohapi J Sepeesa Attorneys, we specialise in personal injury law among other fields. We are here to assist all accident victims who have suffered bodily injury due to the wrongful act of an employer, medical professional, organisation or a member of the public.
Friendly and professional treatment
We work on virtually all types of injury claims from slip and fall claims to dog bite claims. We will use the power which we have as lawyers to help you obtain compensation for your suffering. You can expect friendly and professional treatment when you come to us. We will discuss your situation and run a thorough investigation. If you have the legal right to obtain personal injury compensation, we will build your case based on solid evidence and detailed witness testimony.
We will use our knowledge, skills, experience and expertise to help you get fully compensated.
Mohapi J Sepeesa Attorneys – Slip & Fall Claim
Claim Type

Slip & Fall Claims
Benefits of Mohapi J Sepeesa Attorneys
ACCIDENT
ADOPTION
ANIMAL Bites
BACK And Neck Injury
BICYCLE Accident
BIRTH Injury
BRAIN Injury
BUS Accidents
CAR Accident
CHILD Custody And Visitation
CHILD Support
MOTOR Vehicle Accidents
MOTORCYCLE Accident
NEGLIGENCE
PATERNITY
SLIP And Fall
WRONGFUL Death
---
Mohapi J Sepeesa Attorneys are one of the top law firms in the country
With our years of experience adding to our services, we know we can help you with your slip and fall legal case.
If you are a victim of a personal injury and know that you were injured as a result of someone else's negligence, contact our firm today, and let us go through the process and analysis of your case to help you make a liability claim.
Slip and fall claims
We will determine whether or not you have a legal case at hand, and go forward to represent you to get the compensation you deserve for the pain and suffering you have endured. There are many forms of personal injury situations, with one very common incident being a slip and fall. This can happen anywhere, without warning.
Slip and fall accidents most commonly occur in retail outlets and department stores; as public spaces the owners or managers of such areas are under a duty of care to ensure the public's safety while occupying these spaces. Personal injuries in such areas generally arise from inefficient maintenance and cleaning routines and could result in a range of personal injury cases including head injury claims. E.g. the shopping aisles are not checked regularly enough for spills.
If you have suffered injuries due to a slip and fall accident, the onus is on you to seek out a claim against the party at fault.
In order to claim successfully you will need to prove:
The fault/negligence of the responsible party
The circumstances of the accident
That your injuries did indeed arise from the accident
The cost of treating your injuries
Any financial losses incurred as a result of the accident
Any negligence on your part that may have worsened your injuries
Mohapi J Sepeesa Attorneys has legal specialists in slip and fall claims. We will establish the best route of action to facilitate fruitful and agreeable compensation.
From the first meeting, we will take over the responsibility of the case and collect the necessary supporting documents to enable a smooth and successful claim, with efficient, transparent and professional services.
Mohapi J Sepeesa Attorneys Contact
Contact Number
E-Mail
Website
Physical Address
18 Gold Street

Carletonville

2500

South Africa
Opening Hours
Monday

08:00 – 17:00

Tuesday

08:00 – 17:00

Wednesday

08:00 – 17:00

Thursday

08:00 – 17:00

Friday

08:00 – 17:00

Saturday

– CLOSED

Sunday

– CLOSED