Ronald Bobroff & Partners
Long legal history
Comprehensive assistance
Specialists in slip and fall claims
In-page navigation
---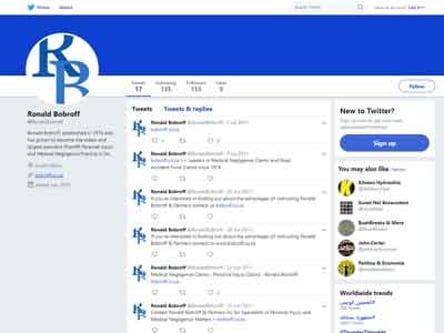 Author Ronald Bobroff & Partners. Screenshot of Ronald Bobroff & Partners website.


[Accessed April 5, 2023]
Ronald Bobroff & Partners Inc - Specialists in medical and legal fields
We are proud of our legal firm's long history and achievement. In 2014, Ronald Bobroff & Partners Inc celebrated its 40th birthday.
Our firm is the oldest and largest legal practice with specialisation in plaintiff personal injury and medical negligence claims in the whole of South Africa.
Dedicated to serving people
Ever since the firm's establishment in 1974, we have been dedicated to serving people who have become accident victims due to the wrongful acts of others. We handle all types of claims from fall and slip claims to assault claims and medical negligence and malpractice claims.
Our team consists of specialists not only in the legal field but in the medical and other fields as well. This enables us to provide the best comprehensive assistance to our clients. We have won many big and complicated cases over the years and this makes us confident that we can assist South Africans in all kinds of difficult situations related to personal injury.
We will work on your case with complete dedication
The professionals at Ronald Bobroff & Partners Inc are specialists in handling slip and fall claims.
If you have accidentally slipped, fallen and incurred injury in commercial or public premises despite having taken all precautionary measures, you can get compensated by the organisation responsible for keeping the premises in case they are at fault.
With us, you have the best chance of winning
When the accident is well documented and there is solid witness testimony, you can have the party at fault pay your medical expenses and compensate you for income loss and suffering resulting from the injury via a personal injury claim. Our expert services will give you the highest chances of winning and getting fully compensated for what has happened to you.
You can rely completely on our skills, knowledge and experience. We have a team of specialists in different fields who work together to prepare a strong case. We will work on your case with complete dedication. You can contact us directly at any time of the day.
Ronald Bobroff & Partners – Slip & Fall Claim
Claim Type

Slip & Fall Claims
Benefits of Ronald Bobroff & Partners
MEDICAL Negligence
ROAD Accident Fund
MOTOR Vehicle Accidents
MOTORCYCLE Accidents
LOSS Of Support Claims
SLIP And Fall Claims
DOG Bite Claims
PUBLIC Liability Claims
PRODUCT Liability Claims
BOATING & Rail Accidents
PERSONAL Injury
DIVORCE & Family Law Matters
---
Ronald Bobroff & Partners - over 44 years' experience in the legal industry
We have a team of legal experts manning our firm, with a passion for justice and for the people they represent.
We have fought thousands of personal injury cases, including slip and fall incident, where the injured party was hurt due to the negligence of a third party. This is an area which is easily proved in court, and if you feel you have been a victim of such an incident, contact our firm as soon as possible.
Effective legal services
Ronald Bobroff & Partners will manage your claim from beginning to end, our experts on slip and fall claims will make sure your case is processed properly and efficiently. Your attorney will help you collate the materials required to support your claim against the party at fault.
The proprietors of public spaces owe the public a duty of care against personal injury when they are occupying the premises. The majority of slip and fall accidents arise from poor cleaning and maintenance routines.
Typical slip and fall negligence:
Failure to mop of slippery spills
Leaving pooling water undrained
Failure to delimit unsafe areas
Obstructions left out in walkways
Poor lighting/visibility
Failure to maintain the road/pavement surface
Failure to put in secure railings
What can you claim compensation for?
Compensation claimed in slip and fall accidents is generally restricted to medical fees and treatment for injuries suffered, loss of income and or support. Your lawyer at Ronald Bobroff & Partners will assist you in collecting all the documents you will need to process your claim successfully. These documents must show the injuries you suffered were caused by the accident, photographic evidence of the location of the accident and what caused it, how you were treated and by whom, what the prognosis is and how much it has cost you.
You will also need to supply proof of loss of earnings, the personal details of the owner/manager of the premises in which you were injured.
Ronald Bobroff & Partners Contact
Contact Number
E-Mail
Website
Physical Address
37 Ashford Road

Parkwood

Johannesburg

2193

South Africa
---
Postal Address
P O Box 1170Parklands, Johannesburg, 2121, South Africa