Motsoeneng Bill Attorneys
Comprehensive range of services
Reliable legal solutions
Extensive experience
In-page navigation
---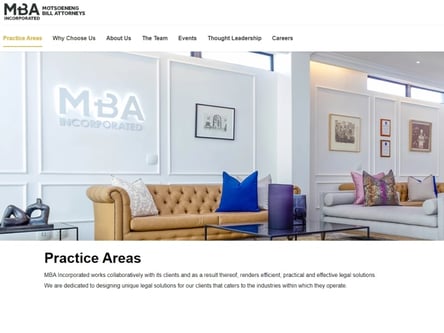 Author Motsoeneng Bill Attorneys. Screenshot of Motsoeneng Bill Attorneys website.


[Accessed March 30, 2023]
Motsoeneng Bill Attorneys - Effective legal solutions
At Motsoeneng Bill Attorneys, we are dedicated to handling all legal matters on the behalf of our clients professionally and without delay.
We are based in the very heart of Sandton and cater to the needs of commercial and individual clients in the entire local area. We specialise in three main fields of law - litigation, commercial law and labour law.
We provide a unique service experience
Our South African law firm was founded by Michael Motsoeneng who was a partner at a firm in Pretoria. Mr Motsoeneng has an extensive experience in working with businesses of various sizes from corporations to medium-sized companies.
We are proud to be 100% black-owned boutique local firm. This enables us to work closely with each and every client and to deliver the most effective legal solution in every case. We have added the personal factor to our specialist knowledge and skills to provide unique service and experience. We always take into account the environmental factors as well as the individual ones when assisting clients with slip and fall claims or any other public liability matters.
We provide a comprehensive range of services
Effective and reliable legal solution is what each and every client who comes to us, at Motsoeneng Bill Attorneys, can expect.
We offer litigation and dispute resolution services which are designed to help our clients deal with various kinds of legal matters from personal injury claims to unlawful competition. We can provide professional assistance with debt collection as well.
Effective solutions to any legal matter
In the field of employment law, we provide a comprehensive range of services. These include allegation case investigation, retrenchment assistance and arbitration.
In the field of commercial and corporate law, we offer legal advice on national acts and codes and on matters which are specific to the organisation. We can also assist clients with their slip and fall claims. We draft all types of legal agreements as well. We offer a range of services in the field of public and regulatory law. These range from corporate governance advice and legislative drafting to the preparation of license applications and the interpretation of statues.
Motsoeneng Bill Attorneys – Slip & Fall Claim
Claim Type

Slip & Fall Claims
Benefits of Motsoeneng Bill Attorneys
ANIMAL Bites
BICYCLE Accident
NEGLIGENCE
SLIP and Fall
---
Motsoeneng Bill Attorneys - the legal expertise you need to win your slip and fall case
We have many years backing up our service delivery to clients needing legal assistance with their slip and fall claim in South Africa.
We know what needs to be done when it comes to an accident or injury that was caused by the negligence of someone else. We are here to help you get through this difficult time. Our team comprises of highly experienced and knowledgeable legal experts, all of which have the capabilities to handle your case.
Slip and fall claims
If you have endured an injury, from a slip and fall, where you know that you were the innocent person, let us know, and we will set up a consult with you to discuss the incident further. Claims for compensation for injuries arising from slipping and falling in a public space should ideally be claimed from the owner or manager of the premises. Any personal injuries incurred within their land are under their duty of care to prevent.
However, as the injured party, you are responsible for pursuing a claim against the party at fault. This requires the compilation of a coherent legal claim, with documents supporting your claim for compensation.
We supply support and advice
The process of ensuring a successful claim you will need the support and advice of a lawyer with expertise in slip and fall claims. Motsoeneng Bill Attorneys is here to help. We will listen to your case and determine how to proceed and what documents will be required to prove fault/negligence of the defendant.
These documents may include: Financial proof of loss of income or financial support, a report from a medical practitioner describing the injuries resulting from your accident and what treatment has and will be required and associated health insurance details.
Motsoeneng Bill Attorneys will guarantee that your claim is submitted through the correct legal routes and is processed competently to achieve the desired resolution and compensation on your behalf.
Motsoeneng Bill Attorneys Contact
Contact Number
E-Mail
Website
Physical Address
321 Main Rd, La Rocca Office Park, Block E,

Bryanston

Gauteng

2060

South Africa
---
Postal Address
P. O Box 69, Morningside, 2057, South Africa
Opening Hours
Monday

08:00 – 17:00

Tuesday

08:00 – 17:00

Wednesday

08:00 – 17:00

Thursday

08:00 – 17:00

Friday

08:00 – 17:00

Saturday

– CLOSED

Sunday

– CLOSED