Malcolm Lyons & Brivik Attorneys
Established in 1965
Pioneering legal practice
Significant achievements
In-page navigation
---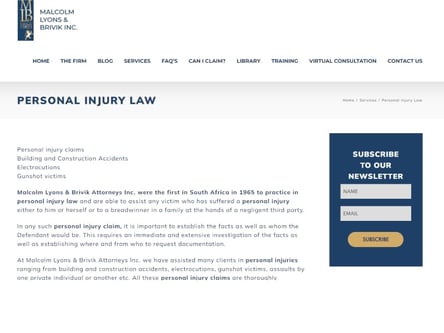 Author Malcolm Lyons & Brivik Attorneys. Screenshot of Malcolm Lyons & Brivik Attorneys website.


[Accessed March 30, 2023]
Malcolm Lyons & Brivik Attorneys - Effective legal solutions
Malcolm Lyons & Brivik Attorneys was the first legal firm in South Africa with specialisation in personal injury law.
It was established in 1965 in Johannesburg by Malcolm Lyons and has always been a pioneering legal practice. Today it is recognised as one of the leaders in its field both locally and internationally. Over the years, the legal team has obtained large slip and fall compensations for numerous accident victims who had suffered bodily injury due to medical malpractice, negligence or unfair labour practices.
We have earned awards
The firm has many significant achievements. These include the earning of the highest award for general damages for a road accident victim in the country and the protection of the rights of more than 3,000 local people suffering from asbestos disease.
At present, the firm has six lawyers and two candidate attorneys. It works in close cooperation with leading practices in Europe and the USA for handling overseas claims.
You have the right to receive compensation
You have the right to receive compensation for injuries which you have incurred as a result of the wrongful act of another person or organisation.
The job of the Malcolm Lyons and Brivik specialist attorneys is to assist you with obtaining the compensation which you deserve. We specialise in personal injury law and can help you with slip and fall claims, elevator accidents, assault, dog bite accidents, construction and building accidents and many more.
We defend your rights
When you come to us, we will use our expert skills and long-term experience to defend your rights in the most effective way. We will ensure that you have full access to justice. We will work dedicatedly on your case to prepare it perfectly to give you the public liability compensation which you deserve.
The first consultation which you will receive is completely free. You are welcome to come to us and share your story. We will take over from there.
Malcolm Lyons & Brivik Attorneys – Slip & Fall Claim
Claim Type

Slip & Fall Claims
Benefits of Malcolm Lyons & Brivik Attorneys
ACCIDENT
ANIMAL Bites
AVIATION Accidents
BICYCLE Accident
BIRTH Injury
BRAIN Injury
BURN Injuries
CONSTRUCTION Accidents
MEDICAL Negligence
SEXUAL Harassment
SURGICAL Errors
---
Malcolm Lyons Attorneys are experts when it comes to personal injury cases
Our legal expertise proved time and time again through thousands of court cases, where our clients have been the innocent victims in a personal injury incident.
These incidents can happen without warning and could have been prevented. By law, shopping malls, building sites etc., have a liability insurance for incidents like this. If you happen to slip on a wet floor whilst shopping for groceries, and there is no wet floor sign in place, you have the right to claim against that store.
We are the ones who will help you build your legal case against the plaintiff, and get the compensation you deserve for injuries, medical bills and pain and suffering. The injury could be minor, however, there are instances when you may require hospital care, surgery, physiotherapy and ongoing medical checkups. These all cost a fine fortune when added up.
It's unfortunate, but accidents happen every day and cannot be predicted. If you have been injured in a slip and fall accident you may need to seek slip and fall compensation from the responsible party.
Claims for compensation can be sought for:
Past and future loss of income/support
Past and future medical fees and treatment
Bereavement and funeral costs
Malcolm Lyons & Brivik Inc. has attorneys specialised in personal injury claims and will provide you with professional guidance and assistance from the first consultation. We will establish the merits of your claim, the conditions influencing your fall and subsequent injuries, and determine the party responsible.
If your claim is provable we will facilitate the collation of the relevant supporting documents such as; witness statements, proof of financial losses, medical fees and therapies to estimate an appropriate compensation.
The legal process of proving an action entails intimate knowledge of personal injury law and the litigation required, instead of wasting precious time trying to figure it all out, let Malcolm Lyons & Brivik Inc do it for you. We will ensure your claim reaches a satisfactory resolution and compensation.
Malcolm Lyons & Brivik Attorneys Contact
Contact Number
E-Mail
Website
Physical Address
Suite 501, 5th Floor, The Colosseum, 3 St Georges Mall

Cape Town

8001

South Africa