Practicing since 1990
Quality legal services
Professional and dedicated team
In-page navigation
---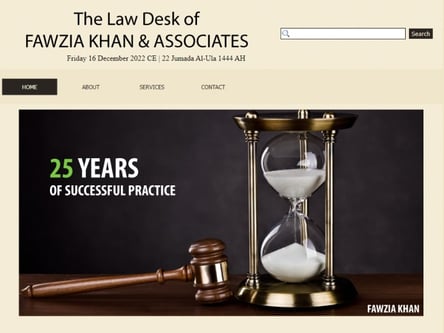 Author Fawzia Khan & Associates. Screenshot of Fawzia Khan & Associates website.


[Accessed March 30, 2023]
Fawzia Khan & Associates - legal services of top quality
Since 1990, The Law Desk of Fawzia Khan & Associates has been providing legal services of the highest quality by leveraging our legal experts and consultants.
Fawzia Khan, the desk's founder, is an attorney with extensive experience and excellent professional skills. You can rely on effective litigation, negotiation and mediation for achieving the goals which you have set for yourself.
Effective legal solutions
You can expect effective legal solution irrespective of the complexity of the case which you have. Thanks to its successful practice and the constant increase of the scope of the offered services, the firm has grown over the years. At present, it offers a wide array of services in the field of family law, property law, commercial law and personal injury law and has experience with slip and fall claims as well as a range of other liability matters.
The key factors behind the success of the firm are professionalism, dedication, commitment and a true passion for helping others with the practice of law. The firm has earned a reputation for defending the rights and interests of its clients tenaciously.
We will work diligently on your case
The range of services offered by The Law Desk of Fawzia Khan & Associates covers family law, property law, commercial law and personal injury law.
The firm provides assistance with marriage, contracts, divorce, wills, litigation and tenant and landlord matters. Fawzia Khan and her team have many years of experience in personal injury claims.
We will help you get compensation
If you or a member of your family has been injured as a result of a wrongful act, you will have the right to apply for compensation. When you come to us, we will review your case and help you with obtaining the compensation which you are eligible for.
We will work diligently and dedicatedly on your case. We will collect evidence and witness testimony and build a strong case to give you the highest chances of obtaining the slip and fall compensation which you require.
We will make you feel at ease throughout the whole process. We will explain all the details to you and keep you up to date at all times.
Fawzia Khan & Associates – Slip & Fall Claim
Claim Type

Slip & Fall Claims
Benefits of Fawzia Khan & Associates
ACCIDENT
ADOPTION
ANIMAL Bites
BACK And Neck Injury
BICYCLE Accident
BIRTH Injury
BRAIN Injury
BUS Accidents
CAR Accident
CHILD Custody And Visitation
CHILD Support
MOTOR Vehicle Accidents
MOTORCYCLE Accident
NEGLIGENCE
PATERNITY
SLIP And Fall
WRONFUL Death
---
Fawzia Khan & Associates - Legal services for slip and fall incidents
Fawzia Khan & Associates offer legal services to clients who have been injured in slip and fall incidents, that wasn't their fault. In, the majority of these cases, there are plausible and evidential practicalities in place that will work on your side, to make your case stand in court.
These can include no wet floor signs or any other warnings that there is possible danger ahead. We have assisted thousands of clients in your situation, have endured injuries from shopping centres, public buildings, walkways and more. We are experts in the personal injury legal area and know how to build a case with evidence and crucial information that will help our clients achieve the personal injury compensation they seek.
Claiming for compensation
Claiming for compensation is not a straightforward process and requires the legal advice of a slip and fall expert such as Fwazia & Associates. Your first consultation will involve resolving the validity of your claim with your lawyer; recounting the circumstances of your accident, determining the party at fault and whether proceeding with your claim will achieve the desired resolution. If you choose to proceed with your slip and fall claim, your attorney will oversee the case on your behalf, leaving you to relax and move on with your life.
In order to prove successful your claim will have to show that the circumstances, in which you slipped, fell and were injured were the fault of the defendant and that they could have been avoided with proper attention and maintenance. You will also have to determine the degree of your own negligence in causing the fall or exacerbating the injuries you suffered from it. If you were negligent then this will result in a reduction of the compensation you are entitled to.
Documents required to claim:
Your attorney at Fwazia & Associates will help you collect all the right files
Photographic evidence of the accident site
Witness testimonies
Health insurance records
Medical report and fees for treatment due to injuries suffered
Loss of earnings, past and future
What you can claim for:
Medical bills, past and future
Loss of income/financial support
Funeral costs
Psychological trauma
Fawzia Khan & Associates Contact
Contact Number
E-Mail
Website
Physical Address
10 Flanders Dr

Mt Edgecombe Country Estate 2

Durban

4340

South Africa
---
Postal Address
P.O.Box 2480, Country Club, 4340, South Africa