Passionate medico-law practice
Always aim to win
'No win, no pay'
In-page navigation
---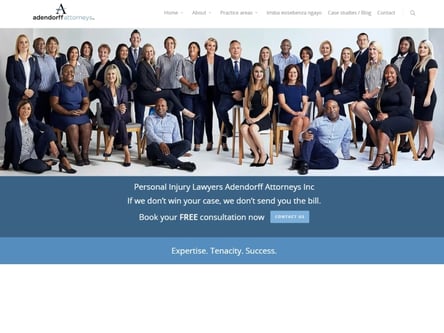 Author Adendorff Attorneys. Screenshot of Adendorff Attorneys website.


[Accessed March 30, 2023]
Adendorff Attorneys - We specialize in slip and fall injury claims
Adendorff Attorneys is a passionate medico law practice driven by the belief that every client has the right to access legal services.
Specializing in slip and fall personal injury claims, the Pretoria based firm strives to see justice for all claims. The firm achieves this by offering clients a contingency fee structure meaning that 'no win, no fee'.
A reliable legal partner
Adendorff will cover all the expenses of litigation whilst at the same time bringing witnesses to court.
The firm also gives clients access to specialists and experienced advocates, thereby ensuring clients receive the best medico law expertise. No matter your crisis, Adendorff promises to stand by you - till justice is done.
We can help you claim
Over the years we have gained a reputation for our expertise, tenacity and success. At Adendorff's we don't give up and we always aim to win.
We know the slip and fall claim process is difficult to navigate, which is why it is important to have the right experts in your corner. Adendorff Attorneys will take it upon themselves to make sure your claim reaches a satisfactory conclusion
Enforce your right to use public spaces safely
In the event that you are involved in a slip and fall accident that was not your fault, you can pursue a claim for public liability compensation from the responsible party should the event happen in a public place.
The first step in lodging a claim is contacting a medico law firm who specializes in slip and fall injury claims. We at Adendorff have extensive experience in dealing with this claim.
Damages you can claim for:
Past and future loss of earnings
Past and future medical expenses
Bereavement/ funeral expenses
General damages i.e. material losses
Do you have a valid claim?
During the first meeting, we will establish the validity of your claim and give direction as to the best way forward. Adendorff Attorneys will at this stage take over your claim, collecting all the required documentation to prove your claim.
We will facilitate the claims process, connecting you with our panel of medical experts and examine the circumstances of the accident. Adendorff Attorneys promises to pursue your case with passion, efficiency and transparency.
Adendorff Attorneys – Slip & Fall Claim
Claim Type

Slip & Fall Claims
Benefits of Adendorff Attorneys
TRAIN Accidents
MEDICAL Negligence / Birth Injuries
SLIP And Fall Accidents
POLICE Unlawful Arrest / Detention & Assault
PRODUCT Liability / Defective Products
DOG Bites
BURN Injuries
SPINAL Cord Injuries
HEAD And Brain Injuries
---
Adendorff Attorneys Inc - expert knowledge, transparency and passion
Slip and fall personal injuries most commonly occur in public spaces such as shopping centres and offices.
The onus is on the managers of these sites to make sure that their premises are safe for public use. Adendorff Attorneys will enforce your right to use public spaces with peace of mind.
We will conduct a careful investigation
We carefully investigate each slip and fall claim incident, determining the circumstances leading to the incident and who is responsible, be it the building manager, a cleaner, or construction company.
In order to claim successfully, we need to prove that your injury was the result of negligence, for instance, poor maintenance on the part of the retailer or owner of the property.
Our firm will take over the legal process of lodging your claim and pursuing compensation. This may include head injury claims or even brain injury claims depending on the circumstances. Adendorff's will keep you up-to-date every step of the way, advising and guiding you to an effective solution.
For more information about how we can assist you or how to make a liability claim, contact us today. This initial consultation is free of charge!
Adendorff Attorneys Contact
Contact Number
E-Mail
Website
Physical Address
2nd Floor Tyger Valley Chambers Three, 27 Willie van Schoor Drive (Durban Road)

Belville

Cape Town

7536

South Africa
---
Postal Address
PO Box 4034, Tyger Valley, Pretoria, 7536, South Africa