Justified solutions
Personal injury claims
Free consultation
In-page navigation
---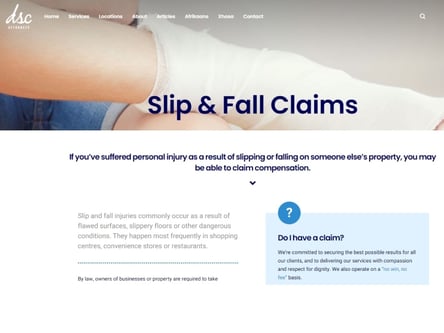 Author DSC Attorneys. Screenshot of DSC Attorneys website.


[Accessed March 30, 2023]
DSC Attorneys - Specialists in slip and trip accidents
De Vries Shield Chiat Attorneys is a Cape Town-based law firm, established in 2004.
The firm specialises in personal injury claims, such as 'slip and trip' accidents. DSC Attorneys boasts extensive experience in product liability.
Specialised and experienced advocates
Although it is young, the firm originally formed from the merger of three prior personal injury law firms: De Vries (Cape Town) Inc., Henry Shields Chiat and Mostert & Bosman.
The firm is driven by the belief that all clients have the right to access the legal services required to come to a justified solution and achieve results for their slip and fall claim.
In order to achieve this goal, DSC Attorneys operates on a contingency of 'no win, no fee'. What this means is that the firm will cover all the expenses of litigation, bringing witnesses to court, access to specialised and experienced advocates and getting expert medico-legal advice.
Do you have a valid claim?
If you have suffered injuries due to slipping and tripping, you may want to consult an attorney to claim for damages.
Slip and fall accidents occur most commonly in public areas such as shopping centres, restaurants and convenience stores.
You will get a free consultation
Business or property owners are legally required to make sure that their premises are safe and well-maintained.
However, if these requirements have not been satisfied and you are injured as a result of negligence on the part of the business or property owner, you may have a valid slip and fall claim.
At DSC Attorneys we have the legal knowledge and expertise to carry out your claim.
In order to save you time pursuing a fruitless personal injury claim, we operate on a 'no win, no fee' basis, accompanied by a free first consultation where your attorney will determine the merits of your case.
DSC Attorneys – Slip & Fall Claim
Claim Type

Slip & Fall Claims
Benefits of DSC Attorneys
SLIP & Trip
ROAD Accident
AVIATION Accidents
DOG Bites
LIFT
GATE & Door Malfunction
MEDICAL
MALPRACTICE
METRORAIL / Train Accident Claims
POLICE Assaults
PRODUCT Liability
WRONGFUL Arrest
---
DSC Attorneys - Let us help you claim
If you have suffered injuries due to a slip and fall accident, and are thinking about seeking slip and fall compensation here are some tips to help you out.
The first step in claiming is to contact one of our attorneys at DSC that is specialised in personal injury claims. During your first consultation, your lawyer will listen to your account of the accident and determine whether proceeding with a claim against the responsible party will achieve a successful resolution. Before this first meeting, you may want to collect the following documents to support your case.
Documents you need to get in order
A medical report from a doctor documenting your accident-related injuries and treatments, medical bills, proof of loss of income/support, health insurance details and proof of claim, photographic evidence of the area in which you slipped, indicating the circumstances under which the incident occurred.
If you do not have all these documents, don't worry, if you make a claim with DSC, we will take the responsibility of determining what files you need to prove your case and facilitate collecting them.
Along with identifying the party at fault regarding your accident and collecting evidence to prove your claim, your lawyer will also have to determine whether your actions at the time of the accident may have been negligent and in some way worsened your fall or the injuries arising from it.
If you are found to have been negligent, e.g. talking on your phone while skipping down the stairs, down which you slipped smacking your head, this will reduce the compensation that you receive.
Talking on your phone, when you should have been watching where you were going, may be viewed as something that exacerbated the accident's results and could have been avoided.
What can you claim for?
Medical expenses and treatments
Loss of earnings
Income support
Funeral costs
Other damages
Lodging a successful public liability claim can be a lengthy and complex legal process to navigate. Your lawyer at DSC will take over the stress of pursuing your claim for you, keeping you informed of important updates every step of the way.
DSC Attorneys Contact
Contact Number
E-Mail
Website
Physical Address
Touchstone House, 7 Bree Street

Cape Town City Centre

Cape Town

8000

South Africa
---
Postal Address
P.O. Box 1456, Cape Town, 8000, South Africa
Opening Hours
Monday

09:00 – 17:00

Tuesday

09:00 – 17:00

Wednesday

09:00 – 17:00

Thursday

09:00 – 17:00

Friday

09:00 – 17:00

Saturday

– CLOSED

Sunday

– CLOSED