Efficient premium service
Guidance throughout claim
Values each client
In-page navigation
---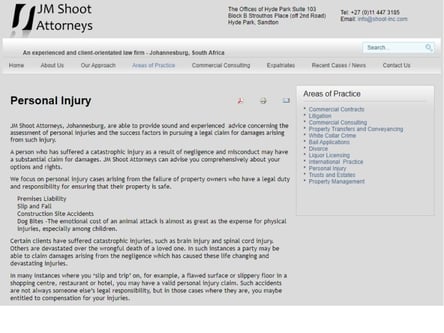 Author JM Shoot Attorneys. Screenshot of JM Shoot Attorneys website.


[Accessed March 30, 2023]
JM Shoot Attorneys - Personal injury claim specialists
JM Shoot Attorneys is a law firm specialised in personal injury claims, which includes slip and fall claims.
The firm values each client providing them with personal attention, access and support, guiding them through the claims process.
Get compensated appropriately
JM Shoot Attorneys will attend to your business and legal issues efficiently ensuring you are appropriately compensated for your injuries. JM Shoot Attorneys is conveniently located in Johannesburg, near to the CBD and other business hubs, aptly placed to carry out your litigation.
If you have been involved in an accident and intend to pursue a public liability claim against the responsible party, JM Shoot will make sure, that you are appropriately compensated.
We will take your claim from start to finish
JM Shoot Attorneys has evolved a reputation for efficient, punctual and premium quality legal services to clients.
As a small firm, JM Shoot Attorneys can afford to work closely with clients, tailoring services to their individual requirements and developing robust working relationships.
We will investigate the context and conditions
Claiming slip and fall compensation for personal injuries is not a simple process and requires the knowledge and expertise of a specialist lawyer. JM Shoot will take your claim from start to finish, advising you every step of the way.
The firm will investigate the context and conditions of the accident and identify the responsible party. Your attorney will assist you in gathering the reports and affidavits required to successfully sue for personal injury compensation.
JM Shoot Attorneys – Slip & Fall Claim
Claim Type

Slip & Fall Claims
Benefits of JM Shoot Attorneys
---
JM Shoot Attorneys are specialists in personal injury cases
We understand this industry very well, with experts in our team who fight legal cases like this every day. A slip and fall injury can be caused by the simplest situation, taking you totally off guard.
In most of these cases, the incident is caused by no fault of the injured party. In this case, you may have a case at hand, allowing you to legally claim compensation for your injury, and pain suffered.
Public spaces by law must be built and maintained for the safety and convenience of public use. If you have suffered injuries and/or damages due to slipping and falling in a public space, you may have a claim against the building owner or manager. The first step in claiming is to contact a lawyer specialised in personal injury law, such as JM Shoot Attorneys.
The sooner you get in touch with us after the incident, the better chances of us being able to put together a case on your behalf. We will need as much information as possible to include in or evidence, allowing us to prove that the injury was caused or an outcome of an incident that's not your fault, and could have been prevented.
Once we have had an initial consultation with you, we would have a much better idea of what we are able to put together, and if we feel you have a case to work on.
You and your attorney will discuss your case and determine the merits of your claim.
Possible damages to claim for:
Past and future medical bills
Past and future loss of earnings
Material damages
Funeral costs
Your attorney will decide what will be needed to lodge a successful slip and fall claim and collect the required documents on your behalf. You should not have to spend all your time and money fighting for compensation and the safety of others. JM Attorneys will fight for you.
JM Shoot Attorneys Contact
Contact Number
E-Mail
Website
Physical Address
The Offices of Hyde Park Suite 103 Block B Strouthos Place (off 2nd Road) Hyde Park

Sandton

Gauteng

2193

South Africa