Small, dynamic team
Long list of success
Contingency claims
In-page navigation
---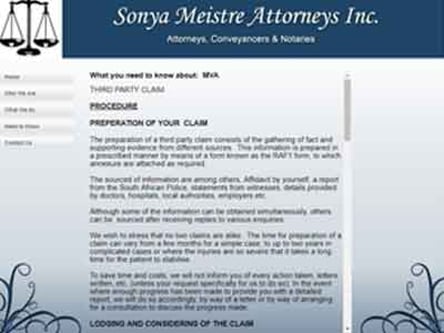 Author Sonya Meistre Attorneys. Screenshot of Sonya Meistre Attorneys website.


[Accessed April 5, 2023]
Sonya Meistre Attorneys - A dynamic legal team
Our small and dynamic legal practice was established in 2001. Ever since then Sonya Meistre Attorneys Inc. has been providing legal services of an excellent quality which meet and exceed the expectations of clients.
We have a comprehensive service range and assist our clients with the resolution of all sorts of legal matters. Some of our main areas of expertise include personal injury law, property law, family law and labour law.
We have a long list of successful claims
We have helped many people and organisations in South Africa to receive justice. We are proud of our success and of our culture which is based on ethics, integrity and passion for practising the legal profession.
We are always up to date with the latest amendments of legislation and with the modern trends in our profession.
This enables us to devise winning strategies for our clients regardless of the complexity of their third party claims. Our services are based on expertise and dedication.
Full legal assistance
At Sonya Meistre Attorneys Inc., we provide full legal assistance to victims of road accidents with the making of third party accident claims.
If you have a valid claim, we will begin with the preparation of the case which involves the gathering of supporting evidence and testimony.
We work at great speed and with complete precision to shorten the preparation process as much as possible while ensuring that we have a strong case.
Contact us online
We will work with you to determine a fair amount of personal injury compensation which we will try to achieve.
The compensation can cover medical and hospital bills lost income and personal damages. Our legal services are provided on "no win, no fee" basis.
Fees are only charged if the claim is successful. We have full transparency regarding our fees and charges. They are presented on our website. You are welcome to contact us online or over the telephone.
Sonya Meistre Attorneys – Third-party Claim
Claim Type

Third-party Claims
Benefits of Sonya Meistre Attorneys
3RD Party Accident Claims
PERSONAL Injury
MOTOR Vehicle Accidents
---
Sonya Meistre Attorneys - We will defend your rights
Sonya Meistre Attorneys may be a small firm, but we pack a major punch when it comes to defending our South African clients in a third party claim.
Our qualified and passionate legal team of experts have a sound and thorough process in delivering the right content and information in a courtroom, which stands out in the defence of our clients.
Claiming from RAF
The planning of a third party or road accident claim comprises of actuality and supporting confirmation from various sources. This data is set up in a recommended way by methods for the RAF1 recommendations of the country.
The sourced of data amongst other important requirements include a report from the South African Police, proclamations from witnesses, points of interest given by specialists or accident reconstruction experts, doctor's reports and notes, and photos.
The more evidence we have to add to your case, the better for you. No case is ever the same. Everyone has a unique story and a unique case. Luckily we have a team of exceptionally trained, qualified and experienced legal attorneys who can take on any third party case that comes to us.
If the Road Accident Fund rejects the claim or the settlement offered isn't palatable, you would then be able to choose to take the case further. This we can discuss should it come to this. All things considered, a summons will be issued against the Road Accident Fund.
Your motor vehicle accident claim against the Road Accident Fund might be comprised of financial claims for general damages, medical and doctor fees, loss of pay during hospitalisation period, pain and suffering, emotional trauma/therapy, and a host of other factors.
We work on a no win no fee basis, which also provides a little financial relief to our clients, without major upfront payments. We are confident in our ability to fight your case, to winning state. Contact us as soon as possible to make a claim and let us get started with your legal assessment of your third-party claim.
Sonya Meistre Attorneys Contact
Contact Number
E-Mail
Website
Physical Address
10 Sneeuberg Street

Glenvista

Johannesburg

2091

South Africa