40+ Years' combined service
Compassionate legal team
'No win, no fee'
In-page navigation
---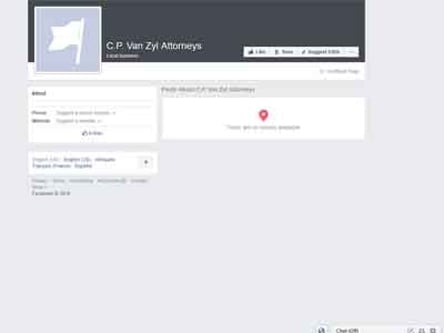 Author CP van Zyl Attorneys. Screenshot of CP van Zyl Attorneys website.


[Accessed April 5, 2023]
CP van Zyl Attorneys - No win - No fee
At CP van Zyl Attorneys, our main aim is to help those that feel helpless.
Our legal firm specialises in the field of personal injury claims and we work on a contingency fee basis.
We have estimated that the cost of the legal services which we provide is out of the reach of some 99% of our clients. That is why we have no win, no fee services.
A compassionate legal team
Our team of attorneys has more than 40 years of combined experience. We work with the best medical experts in the country in order to build solid third party claims based on strong evidence and specialist and witness testimony.
The professionals on our team are carefully selected based not only on qualifications but on personality. The people on our team are friendly, open-minded and compassionate.
Honesty and integrity are in the core of our work. We use our full potential to achieve the goals of the people who come to us.
Expert negotiation skills
The Road Accident Fund Act of 1996 states that you are insured for injuries sustained at the hands of a driver. This means that if you are a victim of a road accident, you can initiate a third party accident claim for compensation.
At CP van Zyl Attorneys, we are experts in the institution of Road Accident Fund claims and in the negotiation and litigation for reaching the required compensation award.
If the injury which you have suffered is caused by the negligence of the other driver, you can get compensated for medical expenses, lost earnings and general damage.
Case assessment
The process begins with the assessment of your case. This is done to ensure that you can make a claim.
If this is possible, we will go on and implement a strategy for reaching the desired outcome. We will use our skills and knowledge fully to ensure that you get rightfully compensated. We work on no win, no fee basis.
CP van Zyl Attorneys – Third-party Claim
Claim Type

Third-party Claims
Benefits of CP van Zyl Attorneys
3RD Party Accident Claims
MEDICAL Malpractice Claims
ROAD Accident Funds Claims
DISABILITY Claims Against Insurance Companies
PUBLIC Liability Claims
TRAIN Accident Claims
HIP Replacement Claims
---
CP van Zyl Attorneys - We build strong cases
Our aim is to help those that feel helpless and forgotten, those that might not have access to legal services because of how expensive these services are. Our company works on a contingency fee bases this means that if we don't win your case you won't need to pay us for representing you.
This means that those poor South Africans that couldn't normally afford legal costs have the opportunity to take their case to court without having to pay any money out of their own pocket for legal services.
Only if you win the case will you need to pay us anything? We will use our 40 years of expertise to analyse your case and give you advice on whether you have a legitimate third-party claim or not.
Using our experience to get the most out of your claim
We have been in the business for a very long time over 40 years in fact, and in that time, we have learnt how to structure your claim in such a way that you can get the most compensation possible. If we feel like you don't have a legitimate claim we will let you know so that you don't waste your time perusing an unwinnable case.
What is a third-party claim and how do I find out if I can claim?
Insurance companies usually have two methods of cover these include own damage and personal accident cover this cover will cover damages to your vehicle, personal injuries sustained and cover you in the event that the accident leads to your death.
These insurance companies are optional while third-party insurance is compulsory for all vehicle owners. Third-party insurance does not cover you, this is the cover that covers any damage that you may have caused a third-party. This can include injuries or even death. If you are the third party and you are hit by another vehicle then you may be able to claim for medical expenses and loss of earnings.
Contact us so that we can asses the merits of your case and advise you on how to go about your motor vehicle accident claim.
CP van Zyl Attorneys Contact
Contact Number
E-Mail
Website
Physical Address
903 Justice Mahomed Str

Brooklyn

Pretoria

0181

South Africa