Practicing since 1986
Successful record
Free case evaluation
In-page navigation
---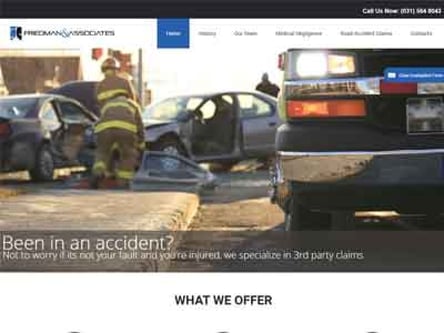 Author Friedman & Associates. Screenshot of Friedman & Associates website.


[Accessed April 5, 2023]
Friedman & Associates - Professional legal team
Since 1986, Friedman & Associates has been offering legal services to accident victims suffering personal injuries.
Our law firm specialises in personal injury litigation in the High Court. Our major areas of focus include third party accident claims against the Road Accident Fund, medical negligence claims and professional negligence claims.
A professional and highly successful law firm
We work with people from all over South Africa. Our clients come from different backgrounds. We are proud of the high quality of our legal services and of our success. Our clients have always received excellent legal advice and representation focused on achieving fair personal injury compensation in the fastest possible manner.
If you are searching for a professional and highly successful law firm, you are welcome to contact us. We are always available to provide legal assistance. All of our new clients are entitled to free case evaluation. We have a "no win, no pay" policy which enables us to help accident victims irrespective of their means.
We have a long record of success
If you have sustained personal injury as a result of the negligent driving of a motor vehicle by another party, you can initiate a third party claim also known as a motor vehicle accident claim against the Road Accident Fund of South Africa.
We, at Friedman & Associates, can provide you with complete legal advice and assistance. We have some thirty years of experience in these personal injury claims.
Professional assistance
We have a team of expert lawyers and work closely with medical and other specialists to build strong cases for our clients.
We have "no win, no pay" policy under which you do not have to pay anything to us unless your third party claim is successful.
With our professional assistance, you can receive compensation for incurred and anticipated medical and hospital expenses, loss of earnings and general damages such as disfigurement and emotional shock. We work on achieving the highest possible compensation for our clients.
Friedman & Associates – Third-party Claim
Claim Type

Third-party Claims
Benefits of Friedman & Associates
MEDICAL Negligence
ROAD Accident Fund Claims
PERSONAL Injury Claims
3RD Party Claim
---
Friedmann & Associates - many years of experience in building cases for clients
We find that in most cases clients are not sure how to start the process or even understand that they can claim for situations where they were injured in a motor accident, that wasn't their fault.
Contact us as soon as possible
With thousands of accidents on the roads every month, and negligent drivers causing havoc on the roads, innocent people are being injured and even killed on South African roads today. If you feel you have a case for us to work with, contact us as soon as possible. You have nothing to lose, as we work on a no win no fee basis.
Clients can make a claim for a number of things including pain and suffering from the emotional trauma inflicted from the accident. You can claim for present and future hospitalisation and medical procedures. Should your spouse or child be killed in an accident, you have the right to claim for a number of aspects, including loss of income and financial support. Your case will derive from the evidence to support that the injuries sustained were from an accident caused by someone else.
The Road Accident Fund compensation you receive will be worked out accordingly, in collaboration with the evidence, as well as the severity of the injuries sustained. Luckily for our clients, they will have a team of legal experts on their side, offering years of knowledge and experience in this area of the law.
We take our clients' cases very seriously, and the sooner you are in contact with us after the incident, the quicker we can begin to process your third-party claim. You will be assigned a road accident attorney from our firm, who will focus entirely on your case. For any questions relating to third-party claims, contact our team via email or telephone today, and we will set up a consultation with you to discuss your case further.
Friedman & Associates Contact
Contact Number
E-Mail
Website
Physical Address
44 Saint Andrews Drive

Durban North

Durban

4001

South Africa
---
Postal Address
PO Box 20347, Durban North, 4016, South Africa